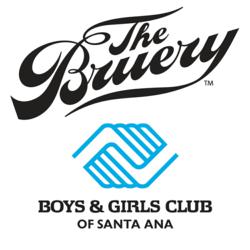 "We are proud of our exciting new partnership with the Bruery. Together, we raised a
significant amount of money for at risk and underprivileged kids in central Orange County." -
Robert Santana CEO BGCSA
Placentia, CA (PRWEB) March 24, 2013
The Bruery of Placentia, CA recently partnered with the Santa Ana chapter of the Boys & Girls Club for a fundraising event in which they helped raise $21,000 dollars at an exclusive beer tasting event in Anaheim, CA that directly supported the BGCSA.
The event, held at Anaheim's Phoenix Club, was attended by members of The Bruery's Reserve Society and was put together with the help of over 40 volunteers from the Boys & Girls club as well as volunteers from The Bruery's staff. The featured beers included everything from The Bruery's more typical offerings like the slightly tart, Hottenroth Berliner Weisse, to some very limited edition beers such as their 19% abv, bourbon barrel aged imperial stout, Black Tuesday, which has a reputation of selling out within minutes when it is available in late October. There were also a number of one-off, extremely limited beers where ingredients including locally roasted coffee, fresh boysenberries and even breakfast cereal were added to create unique flavor combinations
More than 1,100 Reserve Society members attended the event where they had the opportunity to sample ten of The Bruery's beers along with food from Haven Gastropub.
The Boys & Girls Club of Santa Ana provides a positive, healthy learning environment for children and youth in one of the most disadvantaged communities in the United States. The majority of families served are affected by social issues such as poverty, gang violence, teen pregnancy, crime, lack of access to health care and a staggering high school dropout rate. The Club's curriculum, which serves approximately 1,000 kids daily, employs national best practices with special attention focusing on the unique needs of Santa Ana's children – helping to strengthen academic aptitude, physical fitness, health awareness and career ambitions, preparing them to graduate high school and become productive citizens.
The Bruery is excited for this new partnership with The Boys & Girls Club of Santa Ana and would like to thank everyone who participated in the event and helped to raise substantial funds for the kids at their Club!