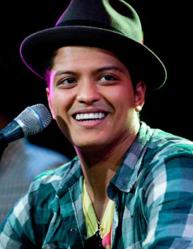 QueenBeeTickets.com has become a popular online destination for discount Bruno Mars tickets for all scheduled concerts for 2013.
Germantown, Wisconsin (PRWEB) March 01, 2013
QueenBeeTickets.com is expected to experience significant Bruno Mars ticket sales on Friday as seats are being made available to the general public on that date for many of the singer's shows on The Moonshine Jungle Tour. The tour comes on the heels of the release of his second studio album, "Unorthodox Jukebox." It was released on Dec. 10 and reached as high as second on the Billboard 200. The song, "Locked Out of Heaven," topped the Billboard Hot 100, and "When I Was Your Man" peaked in the third position on that chart.
Bruno Mars tour tickets are expected to go especially fast for the first concert of the tour. That will take place at the Verizon Center in Washington on June 22. The North American portion of the tour runs through a Miami show on Aug. 30. It will then continue two nights later in San Juan, Puerto Rico, before the tour group heads to Europe. During the North American leg, he will perform in five major Canadian cities. There will also be concerts in just about every region of the United States as shows will take place from Seattle to Miami and from San Diego to Boston.
Bruno Mars tour tickets have been in high demand ever since he released "Doo-Wops & Hooligans" in 2010. The album peaked in the third position of the Billboard 200, and two songs from it topped the Billboard Hot 100: "Just the Way You Are" and "Grenade." Also, "The Lazy Song" peaked in the fourth position on that chart. Many fans with discount Bruno Mars tickets purchased from QueenBeeTickets.com will be especially looking forward to enjoying live performance of these songs.
The singer was born and raised in Honolulu before he moved to Los Angeles at the age of 17 to pursue a singing career. He had been introduced to a variety of musical styles growing up. He struggled during his early years in Los Angeles until "Doo-Wops & Hooligans" was released digitally four days prior to his 25th birthday. He then won his first Grammy Award at the 2011 awards show for Best Male Pop Vocal Performance for "Just the Way You Are."
QueenBeeTickets.com offers the largest ticket selection available on the Internet. All tickets from this company are guaranteed to be authentic and delivered on time. Other top sellers from this merchant today include Ellie Goulding tickets, Fitz and The Tantrums tickets, and Beyonce tickets.