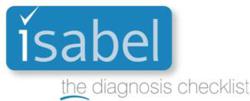 We are pleased to provide the Isabel diagnosis and clinical content management tool for our clinicians.. Isabel will assist us in our mission to make collaborative and personal care more accessible
Ann Arbor, MI (PRWEB) April 13, 2013
Isabel Healthcare announced today that TeleHealth Medical Group has implemented the Isabel diagnosis decision support tool to enhance the tele-consulting services provided and improve the diagnosis skills of clinical learners rotating through the practice. TeleHealth Medical Group provides an innovative medical tele-consulting service that can deliver cost effective, convenient services to a broad range of patients without a physical visit to the office. The deployment of Isabel will further support efficient and cost effective decision making in the practice.
"We are pleased to provide the Isabel diagnosis and clinical content management tool for our clinicians. Isabel will assist us in our mission to make collaborative and personal care more accessible," said Bryn Henderson, DO, JD, FACPE founder of TeleHealth Medical Group. "Isabel will not only provide a great learning platform for the clinical learners that rotate through our practice but will also assist us in delivering convenient, cost effective compassionate care."
"We are proud and excited to be able to support the core mission of TeleHealth Medical Group. Getting to the correct diagnosis as soon as possible drives cost effective care. Isabel helps clinicians broaden their differential and consider other possibilities; a key to diagnosis efficiency and cost effective, convenient care," said Don Bauman, Isabel Healthcare chief executive officer.
About Isabel Healthcare
Isabel Healthcare Inc. was founded in 2000 by Jason Maude and is named after Maude's daughter who almost died after a potentially fatal illness was not recognized. For over 10 years, Isabel Healthcare has provided the Isabel diagnosis decision support system to hospitals, physician practices and individual physicians and gained peer reviewed validation and unmatched experience. Today, Isabel is the only diagnosis checklist system fully integrated with EMR and is used by thousands of physicians, nurse practitioners, physician assistants and students worldwide, providing diagnostic support and education by broadening their differential diagnostic considerations.
About TeleHealth Medical Group
The TeleHealth Medical Group (TMG) offers an innovative solution (Teleconsulting) to delivering a higher quality of care via existing technologies. TMG has a primary care medical office specializing in a broad range of medical services. Services include providing quality, comprehensive medical care for families and people of all ages. The TMG offers general medicine with programs for pain, sleep, medication management, memory care, pharmacy services, breathing, balance and weight loss, as well as specialized expertise in hospital discharge orders and follow-up. In addition, TMG provides weekly voluntary tele-consulting services to various orphanages and disadvantaged shelters throughout the world. Connect with us at http://www.isabelhealthcare.com/home/default.
Contact:
Don Bauman, CEO
734-332-0612
Email: Don.Bauman (at) IsabelHealthcare (dot) com