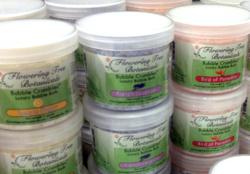 "Flowering Tree Botanicals' Bubble Crumbles are a revolution in relaxation and a bonanza of bubbles!"
Seattle, Washington (PRWEB) September 26, 2012
Flowering Tree Botanicals, a leading handcrafted bath and body company and creator of the popular Hippy Chick ™ tie-dye patchouli scented soap, announced their line of Bubble Crumbles bubble bath products.
Bubble Crumbles is a granular bubble bath product unlike many other products on the market. Only a small amount is needed to produce an amazing amount of bubbles. The luxurious bubble bath created by the granules leaves behind a light scent and softer feeling skin.
"Flowering Tree Botanicals' Bubble Crumbles are a revolution in relaxation and a bonanza of bubbles!" said the founder and CEO Layla Colegrove. "If you want to experience a *movie star* bubble bath, this is for you!" she continued. "they were designed for long, relaxing bathing experiences. Turn on some music, light some candles and pamper yourself!"
The product is available in three new Fall fragrances including Pumpkin Crunch Cake, Cranberry Spice, and Vanilla Chai, as well as many other scents the company produces its other products in.
Bubble Crumbles is also available in several kid-friendly scents. "Kids also love our long-lasting Bubble Crumbles scents -- Bubble Gum, Grubby Grape, and Bloooooberry – and they are amazed at the amount of bubbles in their baths. Mom and Dad no longer have to 'recharge' bubbles in the tub for their kids - they'll be washing them down the drain to get rid of them after bathtime is over." said Colegrove.
The five ounce jars of Bubble Crumbles are available for purchase online at the company's website at floweringtreebotanicals.com for $5.95 each. For a limited time flat rate shipping of $6.95 is being offered for any order size. Bubble Crumbles are also available at wholesale prices for retailers.
About Flowering Tree Botanicals
Flowering Tree Botanicals is operated by a mother/daughter team specializing in beautiful handmade bath and beauty products as well as bulk botanicals, spices and herbs. Their products are cruelty-free and ingredients are sustainably grown and harvested. Flowering Tree Botanicals was selected as featured seller on Heartsy (a deal of the day website), a winner of Bramble Berry's "swirled soap" contest and featured on ABC News.