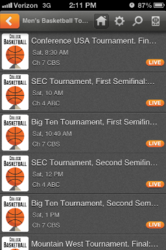 Seattle, WA (PRWEB) March 14, 2013
March Madness is almost in full swing which means there is a ton of basketball to be had and the best way to keep up on everything tournament related is with the newer and faster free BuddyTV Guide app. The latest version supports iPhone 5 and now performs at blazing new speeds, with a slicker user interface. BuddyTV also just rolled out a Men's Basketball Tournament Quick List with ALL the upcoming game air times, channels and stations in chronological order. The Quick List also includes the remaining regular season games because there can never be too much basketball.
This Quick List will be available throughout the playoffs and will be updated with upcoming rounds the next day after a game. BuddyTV is always on top of taking the strain out of TV and tournament viewing. Never again will users of the app miss a game they didn't know was on or because they were unsure what time it was playing.
It's easy with the BuddyTV Guide app to set reminders, create a personalized watch list and check in when watching a game. The app keeps track of the games watched and the games still waiting to be seen. Of course all of these features are also possible with any regular TV program allowing users to truly personalize their TV viewing experience. Instead of having hundreds of channels to view with nothing on, it's possible to narrow the guide down to the few channels relevant channels actually worth watching. Once the app is tuned to a user's preference it will continue to recommend relevant content and help them further enhance their app. The BuddyTV Guide is a smart app for a smart phone, constantly taking the effort out of watching TV so users can do just that watch TV instead of finding TV to watch.
As mentioned before the newest version of the BuddyTV Guide app that was just released is pushing the extremes of what it means to be a high performance app with greater usability including iPhone 5 compatibility. This is something that users can constantly expect to see from BuddyTV as it is always looking for ways to take the guide app to the next level. Updates are frequent and exciting which is essential to staying on top of the ever changing world of TV. BuddyTV content is fresh and consistent always giving users something to entertain themselves with in between episodes of their favorite shows. It's 2013 and channel surfing should be a thing of the past; BuddyTV users understand that and future users will come to understand that. Especially when they realize all of this is free and just a simple download away on the iTunes App Store.
About BuddyTV:
BuddyTV's goal is to help TV fans take the hassle out of their TV viewing experience. As the #1 independent TV site on the web this means striving to stay on the cutting edge and constantly redefining what it means to 'watch' TV. Because watching TV shouldn't be about finding TV to watch, it should be about having the ability to know exactly what to watch before even turning the TV on.
For press inquiries or to arrange an interview with BuddyTV CEO Andy Liu, please contact Michael Jacques at BuddyTV: michael(at)buddytv(dot)com or 206-795-1348. For more information about BuddyTV and the BuddyTV Guide app, visit http://www.BuddyTV.com and be sure to like us on Facebook and follow us on Twitter @BuddyTV and @BuddyTVGuide