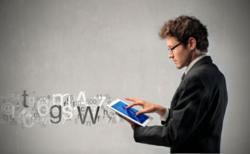 Understanding how to build email lists will give businesses an edge over the competition.
Austin, TX (PRWEB) June 09, 2012
The latest article from the Internet marketing experts at Digital Marketer said every business should know the value of building your subscribers lists to their fullest potential. The company often refers to the age-old phrase "The money is in the list" when debating over the latest and most effective ways to increase conversion rates. Truly, the article said email lists can serve up cash on demand for the businesses that execute them right.
That's why Digital Marketer wanted to help entrepreneurs and businesses make the most of their lists, and increase their subscribers without any sort of traffic boost. While that's the most obvious way to raise numbers, the article said traffic generation is expensive and time consuming. Instead, Digital Marketer is offering "Double Your List: How to Double Your Subscribers without Doubling Your Traffic."
Ryan Deiss, founder and publisher of DigitalMarketer.com, knows personally how valuable a subscriber list can be. The article said he used techniques to grow a list from 8,000 to over 400,000 subscribers in under a year, and is now sharing those techniques in the "Double Your List" Special Report.
Hundreds of tests were conducted by Ryan and the Digital Marketer team on list-building alone, and the ten most effective strategies make up the Special Report. Information like this isn't just given away, said the article. This is marketing gold, the type of stuff that is top secret and unbeknownst to the general public.
But the article was sure to mention that none of the techniques in "Double Your List" would be considered shady or unethical. They're 100% pure opt-in, only they're proven to be more effective than any other method.
The article pointed out how understanding how to build email lists will give businesses an edge over the competition. Real financial stability can be reached using the advice in "Double Your List" and implementing the best practices, said the article. Simple adjustments and additions, created with minimal web design experience, will result in conversion rate improvements by 50%, 60%, even 70%, according to the article.
Digital Marketer releases Special Reports to help businesses and entrepreneurs gain insight and information on the trends, data, and strategies that can take them to the top of their industry. Through their training courses, strategic plans, blogs, newsletters, site reviews, and Special Reports like this one, Digital Marketer supercharges every single marketing campaign it touches. For more information, visit DigitalMarketer.com.
"Double Your List" doesn't contain any fluff or B.S. The article said it only shares the raw information that marketers need to push their subscription numbers sky-high.
"Gain access to the expert tips for building your subscribers lists with Digital Marketer's Special Report, and you'll see the difference immediately," said the article.