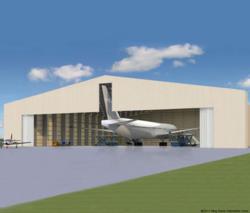 Olympia's warranties and personal attention to details are the best in the business
Unionville, Ontario (PRWEB) November 15, 2012
Olympia Steel Buildings of Canada has contracted to design, engineer and supply one Olympia Steel Buildings® pre-engineered Aircraft Hanger metal building for the Parry Sound Airport in Parry Sound Ontario. The project consists of a 24m wide x 30m long x 7m high hanger with a 21m wide x 6m high Hydraulic Door and a 6m wide x 30m long office area with Mezzanine. Construction of the facility is scheduled to be completed in spring 2013.
"The people at Olympia Steel Buildings have been a great help. I was recently at the factory in Pittsburgh, PA and the General Manager (Pat). Head of Design (Ron), Quality Control (Shawn and Bill) all gave me their 24 hour cell phone numbers to use if there were any questions or problems. Olympia's warranties and personal attention to details are the best in the business" states Sandy Lenny President of Ayce-Pro-Corp General Contractors in Torrance Ontario.
John Montgomery, National Sales Manager of Olympia Steel Buildings Canada outlined that "this building is an exciting example of the additional feature that can be designed into an Olympia Steel Building". John points out that this building "features a 4 Ton Crane, Fire Wall separation, Custom colour roof sheeting to meet special Airport requirements, 29 gauge liner panel on interior walls, and a 100 square meter mezzanine floor."
About Olympia Steel Buildings
Olympia Steel Buildings are supplied by Universal Steel Buildings Corp, an industry leader in pre-engineered steel buildings for over 40 years, and sole supplier of Olympia Steel Buildings® to commercial, industrial, agricultural, residential, government, military and civilian agencies. Olympia Steel Buildings come with their outstanding weather-resistant PBR roof, or you can opt for their patented Zeus-Shield® standing seam metal roofing system.
GSA approved Olympia Steel Buildings set them apart by using better materials, better quality control, exceptional customer service and industry-leading warranties, including a 25-year rust through perforation warranty. Olympia pre-engineered steel buildings are precision engineered and expertly erected to give you a "tight" building that reduces air infiltration into the building saving on HVAC costs. They offer 12 energy efficient colors for metal buildings to reduce cooling costs and come with a 40-year warranty against chipping, cracking, peeling or blistering.
Because of such key features, Olympia pre-engineered steel buildings can qualify under LEED Green Building guidelines. For more information about Olympia Steel Buildings Of Canada, visit their website http://www.olympiasteelbuildings.ca or call 866-479-3292 for more information.