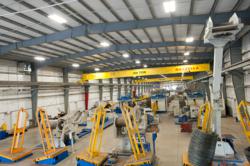 We worked diligently with Reinforcement Systems and the contractor to accommodate all requirements. The end result is a very satisfied and happy Olympia Steel Buildings customer.
Pittsburgh, PA (PRWEB) June 28, 2011
Reinforcement Systems, LLC, a leading reinforcement steel producer for the concrete construction industry chose Universal Steel Buildings Corp to design, engineer and supply an Olympia Steel Buildings pre-engineered steel building to house their new independent manufacturing facility located in Warren, OH.
Bill Gallenz, president of Reinforcement Systems remarked that when making their decision about the right building for their needs, the owners did a lot of research and took three main things into consideration: cost, quality and service. Olympia Steel Buildings met all of those requirements. The sixty-thousand square foot manufacturing plant is designed to house state-of-the-art fully automated machinery in the main part of the facility and to accommodate an extensive system of overhead cranes to move materials and product. A spacious fabrication room is part of the facility design and all areas of the plant are fully accessible to large eighteen wheel trucks for unloading coils of raw material and loading manufactured product through large overhead doors. Industrial exhaust fans and a complete insulation system are designed to keep the plant comfortable summer and winter. The owners chose "light-stone" as the color of exterior of the building with "burnished slate" colored wanes coating. The paint coatings used are Akzo-Nobel "cool" paints designed to help reduce energy consumption by keeping the interiors of metal buildings cooler.
Mark Martin, owner of Reinforcement Systems, established the company in 2009. As a native of Warren, Ohio, Martin fulfilled a promise to bring jobs to the city where he grew up. His $28 million plant is expected to employ 65 workers within the next three years with room to double the plant size as the company grows. Given the modular nature of pre-engineered steel buildings, the Olympia Steel Buildings metal building system will easily expand to accommodate the projected growth. "To succeed in this rare start-up opportunity, one must possess the ability to work with discipline and focus during the building phase of the company," states Martin. "The advantages in participating in this start-up location are significant when considering room for growth."
The Reinforcement Systems of Ohio LLC corporate headquarters and manufacturing facility occupy a seventeen-acre site near Warren, Ohio. The company manufactures welded wire reinforcements (WWR) used in concrete products such as box culverts, modular buildings, span bridges and tunnel segments. Their custom engineered prefabricated reinforcement mats will be designed and manufactured at the new Warren facility, saving pre-casters thousands of dollars in material and labor costs through the WWR process.
"It was important to address all of the OSHA requirements in addition to building codes on this building," emphasized Arnold Davis, president of Universal Steel Buildings Corp. "We worked diligently with Reinforcement Systems and the contractor to accommodate all requirements. The end result is a very satisfied and happy Olympia Steel Buildings customer."
About Olympia Steel Buildings
Olympia Steel Buildings are supplied by Universal Steel Buildings Corp, an industry leader in pre-engineered steel buildings for over 40 years, and sole supplier of Olympia Steel Buildings® to commercial, industrial, agricultural, residential, government, military and civilian agencies. Olympia Steel Buildings come with their outstanding weather-resistant PBR roof, or you can opt for their patented Zeus-Shield® standing seam metal roofing system.
GSA approved Olympia Steel Buildings set themselves apart by using better materials, better quality control, exceptional customer service and industry-leading warranties, including a 25-year rust through perforation warranty. Olympia pre-engineered steel buildings are precision engineered and expertly erected to give you a "tight" building that reduces air infiltration into the building saving on HVAC costs. They offer 12 energy efficient colors for metal buildings to reduce cooling costs and come with a 40-year warranty against chipping, cracking, peeling or blistering. Because of such key features, Olympia pre-engineered steel buildings can qualify under LEED Green Building guidelines.
For more information about Olympia Steel Buildings, visit their website http://www.olympiabuildings.com or call 888-449-7756 for more information.
###