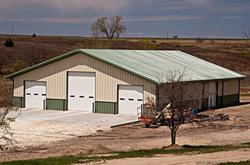 We want Olympia Steel Buildings to be their premier choice when looking to build
Pittsburgh, Pennsylvania (PRWEB) October 07, 2011
Universal Steel Buildings is currently seeking dealers and sales representatives in Nebraska and Iowa as the company continues to extend their Olympia pre-engineered steel buildings brand into the Midwest. Olympia Steel Buildings continues its steady growth as a leader in pre-engineered steel buildings with fourteen locations in the United States and Canada, including their recently opened office in Olathe, Kansas.
"We're looking for dealers and sales reps in Nebraska and Iowa to enable us to reach out to customers all over the Midwest, but especially in those states where we feel there is a growing need and demand for pre-engineered steel building products," states Company vice-president, Lucas Hocker. "We want Olympia Steel Buildings to be their premier choice when looking to build anything from a barn to a garage to a machine shed, commodities storage or for any new construction project."
The search for new dealers and sales representatives ties in with the company's committment to customer service and a personalized approach. "It's a tremendous opportunity for builders, contractors and building erectors to get in on the ground floor with Olympia and really build their business," states Hocker. "We like to invite interested individuals to come out to the plant and once they see what we are doing, the quality and the service we provide, they're sold right then and there."
Olympia Steel Buildings are manufactured in a completely automated state-of-the-art facility, located in Ambridge, Pennsylvania. Staffed by highly experienced engineers and designers, the Ambridge plant is one of the most sophisticated in the metal building industry. The facility employs CNC technology to create one of the market's highest quality metal buildings system and uses advanced CAD-CAM software created exclusively for the metal building industry to design and engineer their buildings. The Ambridge plant manufactures the entire Olympia Steel Buildings metal buildings system, including frames, sheeting, secondary framing and components without the need to outsource, unlike some companies that just make the frames and buy the rest of the components, or companies that just make components and do not supply the frames.
"The integration of the entire manufacturing process assures the quality of the final product," assures Hocker. "And that is what we want the customer to know."
About Olympia Steel Buildings
Olympia Steel Buildings® are supplied by Universal Steel Buildings Corp, an industry leader in pre-engineered steel buildings for over 40 years, and sole supplier of Olympia Steel Buildings to commercial, industrial, agricultural, residential, government, military and civilian agencies. Olympia Steel Buildings come with their outstanding weather-resistant PBR roof, or you can opt for their patented Zeus-Shield® standing seam metal roofing system. GSA approved
Olympia Steel Buildings set themselves apart by using better materials, better quality control, exceptional customer service and industry-leading warranties, including a 25-year rust through perforation warranty. Olympia pre-engineered steel buildings are precision engineered and expertly erected to give you a "tight" building that reduces air infiltration into the building saving on HVAC costs. They offer 12 energy efficient colors for metal buildings to reduce cooling costs and come with a 40-year warranty against chipping, cracking, peeling or blistering. Because of such key features, Olympia pre-engineered steel buildings can qualify under LEED Green Building guidelines.
For more information about Olympia Steel Buildings, visit their website http://www.olympiabuildings.com or call 888-449-7756 for more information.
###