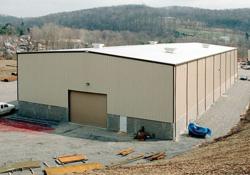 Our decision to go with Olympia Steel was predicated on their outstanding service, quality of product and delivery of materials exactly when they indicated they would
Unionville, Ontario (PRWEB) October 18, 2011
Olympia Steel Buildings Of Canada recently supplied an Olympia Steel Buildings pre-engineered steel building to TerraTree Foods in South-Western Ontario for their new Phase 1 raw food processing facility. "Possibly the first of its kind in all of North America," according to Ms. Deepika Mital, company president. The Phase 1 facility, comprised of a three-thousand six-hundred square foot pre-engineered metal building is slated for completion fall, 2011.
TerraTree is a Toronto, Ontario based live/raw food company dedicated to promoting the living food lifestyle by providing products that enable people to incorporate the "live food concept" in an imaginative yet practical way. The company has introduced a new way of eating to North American consumers with their whole grain and seed sprouted crackers, crusts and flatbreads known as "Sunzas". Sunzas are markedly different from the regular categories of crackers because of what they contain, whole, sprouted grains, seeds or nuts, and how they are processed. All Terra Tree Foods products are made with sprouted organic grains, seeds or nuts and their vegetables are sourced from local, certified organic farmers. TerraTree uses a lengthy, specialized process that involves sprouting all of their seeds and grains and then dehydrating them at low, controlled temperatures to maintain maximum nutritional content and flavour while minimizing the loss of valuable enzymes, vitamins, and minerals.
Deepika said, "Our decision to go with Olympia Steel was predicated on their outstanding service, quality of product and delivery of materials exactly when they indicated they would. They provided us with the essential information required to make a decision based on our needs. But best of all, they understood our company and what we were trying to achieve. Olympia committed themselves to working with us and did so in a manner that was professional and productive while remaining competitive. Choosing Olympia Steel Buildings of Canada was obvious and a foregone conclusion from our very first meeting."
About Olympia Steel Buildings
Olympia Steel Buildings are supplied by Universal Steel Buildings Corp, an industry leader in pre-engineered steel buildings for over 40 years, and sole supplier of Olympia Steel Buildings® to commercial, industrial, agricultural, residential, government, military and civilian agencies. Olympia Steel Buildings come with their outstanding weather-resistant PBR roof, or you can opt for their patented Zeus-Shield® standing seam metal roofing system.
GSA approved Olympia Steel Buildings set themselves apart by using better materials, better quality control, exceptional customer service and industry-leading warranties, including a 25-year rust through perforation warranty. Olympia pre-engineered steel buildings are precision engineered and expertly erected to give you a "tight" building that reduces air infiltration into the building saving on HVAC costs. They offer 12 energy efficient colors for metal buildings to reduce cooling costs and come with a 40-year warranty against chipping, cracking, peeling or blistering. Because of such key features, Olympia pre-engineered steel buildings can qualify under LEED Green Building guidelines.
For more information about Olympia Steel Buildings Serving Canada, visit their website http://www.olympiasteelbuildings.ca or call 866-479-3292 for more information.
# # #