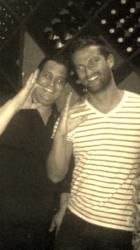 Rockville, Maryland (PRWEB) September 06, 2012
WHAT: Bachelor Pad 3 Season Finale Viewing Party
WHERE: Sugo Restaurant - 12505 Park Potomac Avenue Potomac, MD 20854 (240) 386-8080
WHEN: Monday September 10, 2012 7:00 PM
Chris Bukowski and Chef Dimitri Moshovitis will be hosting a viewing of the Season Finale of Bachelor Pad live at Sugo Restaurant. This viewing party is to announce the plans to open an exciting new Restaurant/Bar concept in the Washington DC Metro Area. Chris will also announce his intentions to team up with several Bachelorette alumni as partners/investors.
While toasting his 26th birthday, Chris will talk about this season of The Bachelor Pad 3 and its controversial ending. He will also shed light on his game strategy, love connections and his upcoming restaurant ventures. There will also be a special appearance by Super Fan Paige Vigil of Bachelor Pad 3.
Chef Dimitri will talk about his current restaurants and the many exciting things coming for Cava, Cava Grill, Cava Dips, and Sugo, as well as his upcoming bar themed menu for the new restaurant with Chris B.
In celebration of this venture as well as Chris' birthday party, Sugo will be providing some samplings of their latest menu additions and some of Chris' favorite birthday deserts. All beverages will be available for purchase.
Follow Chris on Twitter for additional updates @chrisjbukowski
Follow Chef Dimitri on Twitter for additional updates @chefdcava
Contact Nicole Pettitt 240-899-6742 for details regarding this event.