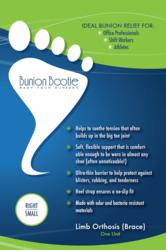 Bunion Bootie is excited to show off its new and glamorous look, one that will now properly represent its therapeutic and "spa-esque" characteristics
Henderson, NV (PRWEB) June 13, 2012
Bunion Bootie is very excited to show off its new and glamorous look, one that will now properly represent its therapeutic and "spa-esque" characteristics. The modern and colorful re-sealable pouch will catch anyone's eye and will conjure up images of soothing pain relief and avoiding the one dimensional and aged "clinical" appearance that other bunion treatment options render to customers currently. On the back side of the pouch is a wealth of information readily available to the buyer including; step-by-step instructions on how to slip on and wear the Bunion Bootie (including photos) a Size Guide (Bunion Bootie has 4 sizes to choose from for each the left and right foot) allowing customers to find the best fit for their foot, care & washing instructions, and disclaimer to those with severe bunion deformity (those with prior foot conditions or extreme bunion deformity are urged to always consult with their doctor first).
We're going green when talking about the now weather-resistant shipping envelope custom printed with the Bunion Bootie logo on 50% recyclable material. This new packaging was selected for its lightweight and earth friendly characteristics.
Without the support and overwhelming response Bunion Bootie has received from its repeat customers, referrals, and new-found fans, this design revamp would not have been possible or cost effective for both the company and its customers. Bunion Bootie strongly believes in not only maintaining exceptional value to each of its' customers in the way of excellent customer service and providing superior bunion treatment, but it is constantly looking for ways to increase the value of its brand by keeping or reducing costs, so that the best possible price can be presented to the customer.
Bunion Bootie was established in 2011 by a group of fellow bunion sufferers who came together in search for a viable non-surgical solution for bunion pain, a solution that they felt did not exist previously. Bunion Bootie is the perfect solution for those where staying off their feet is just not an option, including office workers, shift workers, and athletes. It slips in any shoes easily, comfortably, and for most, undetectably to provide all day relief from the rubbing and irritation most shoes cause bunions. Irritation that if left untreated, can result in blisters, swelling, tenderness, and sometimes bursitis which only exacerbates the discomfort already felt by those suffering from daily bunion pain. At only 0.4mm thick, it even fits comfortably in high heels and running shoes. Additionally, as we are heading into the summer months it's good to know that it is also made with odor and bacteria resistant materials.
Please visit their website http://www.BunionBootie.com for full details. Discounts are available for purchases of more than one (1) Bunion Bootie and those can be found on the website.
For more information contact Bunion Bootie through the company's website, BunionBootie.com, or by emailing at CustomerService(at)BunionBootie(dot)com.