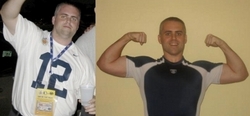 The doctor walked in and told me I had developed adult-onset asthma, high cholesterol and sleep apnea
Summit, NJ (PRWEB) March 24, 2009
Matt Lisk was 32 years old, obese, and in denial. After years of over-eating and lack of exercise, he found himself sitting in the emergency room, gasping for breath. Tears filled his eyes as he began to wonder if he would live long enough to see his son's 2nd birthday.
"The doctor walked in and told me I had developed adult-onset asthma, high cholesterol and sleep apnea," says Lisk. "When he told me it was time to lose weight, so I could be there for my wife and son, I knew it was time to take action."
Like many who suffer from obesity, Lisk was in denial for years. Despite his best efforts to diet and exercise, nothing solved his weight problem long-term. "I would frequently stare in the mirror and wonder who the stranger was staring back at me," adds Lisk. "I was at the lowest point of my life until I started experimenting with eating burritos and then suddenly it all just clicked."
The biggest challenge to dieting, Lisk states, is portion control. Versatile, fun to prepare, and easy to hold, burritos became Lisk's answer to fast food. Perfect for breakfast, lunch or dinner, Lisk discovered that three burritos a day -- combined with light, healthy snacks, and protein shakes -- enabled him to lose 80 pounds in 80 days while also lowering his body fat content to an incredible 10 percent.
Matt Lisk's Burrito Diet (now available exclusively at http://burritodiet.com) not only teaches you how to eat healthily, but it also provides you with a structure you can use to lose weight rapidly and safely. The Burrito Diet also teaches you the proper way to exercise for fat loss through a reasonable exercise regimen that will help to reduce your body fat level.
Says Lisk, "I almost lost my life due to obesity, but after my wake up call, I realized that I needed to change the way I eat or I was going to lose everything that was near and dear to me. It is my hope and prayer to help others who suffer with obesity through The Burrito Diet book."
###