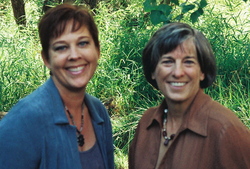 We help you to change the patterns that don't work for you anymore. You'll learn a whole new way to manage your energy – a way that lets you live up to you potential
Denver, CO (Vocus) October 14, 2010
Miracles Business Coaching launches business to give women entrepreneurs the energetic transformation and career coaching they need to align their energy, open doors and experience expanded success.
Korina Felkers and Della Temple have combined their psychic and coaching services to help womanpreneurs by offering private coaching sessions (in person or by phone), tele-class coaching programs, money energy readings, and a variety of products to support their journey to success.
Client success stems from the blend of Ms. Felkers' business psychic readings, which illuminate a woman's subconscious energetic imprints and how to shift those patterns, and Ms. Temple's experience coaching small business owners to make their dreams concrete and help them implement a fresh way of living. As a team, the women work together to ignite the inner evolution of their clients and to help them embrace the full force and potential within themselves.
The Miracles Business Coaches demonstrate how money and energy are interconnected and that one's internal and external consciousness must work harmoniously to achieve success and true well-being in life.
"Money is energy," says Temple. "It is a form of energy that you receive as a direct result of the actions and contributions that you put forth in the world. It flows in and out of your life in direct relationship to your efforts, intentions and consciousness. Most people, though, are unconscious of how this money energy emanates in and through them."
Korina Felkers uses her psychic abilities to read each individual's unique chakras, aura and other energy structures to see the internalized beliefs and programs people adopt into their personalities. This is called the client's Money Story. Once the Money Story has been evaluated, Temple and Felkers work to align the current energy with the client's desired goals.
"We help you to change the patterns that don't work for you anymore. You'll learn a whole new way to manage your energy – a way that lets you live up to you potential," says Ms. Felkers. "We support you in understanding and seeing the brilliance of who you really are and in bringing that to bear in your every day life!"
For more information, please contact:
Della Temple
Money Coach
Miracles Business Coaching
303-746-7773
della(at)miraclesbusinesscoaching(dot)com
###