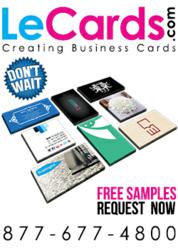 Free shipping on all business card orders in the US and now Canada.
Los Angeles, CA (PRWEB) April 30, 2013
LeCards.com, the online producer of professional custom business cards, invites their new and established customers to celebrate their 2-year anniversary with them. Specializing in a variety of business cards online, LeCards is now offering complimentary shipping of most types of business cards to Canada, and is unveiling a new line of business products as well as an updated website.
To celebrate their company's 2-year anniversary on April 22, custom business card maker LeCards.com wants to thank their loyal customers and invite new clients to their site with a variety of fresh products and a brand-new website look. LeCards.com makes it their business to provide quality service and products to companies that put a high priority on image, as well as great value. Their specialty is custom-crafted business cards online, with a variety of die cuts, sizes, and an array of paper stocks to satisfy even the most particular customers.
Since the company's inception in 2011, LeCards.com has shipped all business cards without cost to U.S. customers. LeCards now offers complimentary shipping of most custom business cards to Canada, and is rolling out a new line of products to complement their wide variety of custom cards and other business products.
"After working with many printers over the years, I finally found one I can trust and don't feel that I have to stand over their shoulders," says Calvin Tran, CEO of MediaJunkies.com. "As a professional marketing firm, we must have top of the line printing or it affects our business's image and reputation. Low quality printing means we lose clients. This is never a concern with Lecards. Always amazing people to work with online or offline."
To appreciate their loyal customers like Mr. Tran and countless others, LeCards.com has crafted a sleek new website look and several brand-new products and services in addition to their popular business card inventory. Their new products include several popular sizes of postcards, eye-catching business flyers, professional brochures, and stunning vinyl banners. Free sample business cards are always offered to customers interested in sampling the way a product looks before ordering.
Visit LeCards at http://lecards.com/ for more information on their full line of products and services.
About LeCards.com
Online professional printing company LeCards.com specializes in custom business cards and other business materials that put a high priority on image and quality, without sacrificing superior value. Their customizable business card options include cards in a variety of unique shapes, sizes, and paper stock to make a company's cards stand out from the rest. They always offer complimentary business card shipping and outstanding customer service to each client.