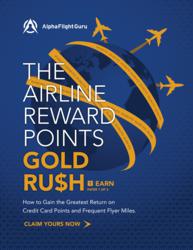 The biggest savings can be found in the Mediterranean, which has always been a popular vacation destination.
San Bruno, Calif. (PRWEB) July 13, 2012
Summer travel season has officially begun and an estimated 140 million Americans are planning a vacation during the warmer months ahead. More summer travelers than ever before are planning on using loyalty program points and frequent flier miles to help fund their vacation plans. According to a recent survey by American Express, 19 percent of summer travelers plan to use points, a significant increase from 15 percent last year. Alpha Flight Guru, a travel agency that specializes in helping travelers redeem points and miles for travel, has also seen an increase this year in clients wanting to use points for summer vacations.
"The best way to help offset vacation costs is to use the points and miles earned from credit cards and other loyalty programs," said Tim Gibson, CEO of Alpha Flight Guru. "There is an estimated $50 billion worth of rewards points being given away each year by the airlines, hotels and credit card companies. Many individuals and businesses are not taking full advantage of opportunities to lower travel expenses by charging everything to the right cards and maximizing the number of points earned."
According to Gibson, international luxury and business class travel is the best use of loyalty program points and miles.
"When you fly internationally in business or first class, the savings could be as high as five cents for every dollar spent on credit cards," Gibson explained.
The American Express survey found an increase in the number of Americans planning to travel internationally. Italy, Cayman Islands and the United Kingdom were the top vacation choices for summer travelers.
For those looking for international travel savings outside of using loyalty points and frequent flier miles, the Eurozone debt crisis has helped make European vacations more affordable with the Euro and British Pound losing value.
"Europe will continue to be a classic holiday spot despite negative headlines," said Chad Gibbons, director of operations for Alpha Flight Guru. "The biggest savings can be found in the Mediterranean, which has always been a popular vacation destination."
Spain, Portugal and Greece are among the countries where people may currently find the best deals.
Packages that include air are some of the best ways to save. Websites like Kayak and Orbitz offer a variety of package deals.
"You can book a six-night vacation package from New York City to Rome, Athens and Istanbul for under $1,000," Gibbons said.
Traveling to destinations during the off season is another way to save. The Caribbean is more popular during the winter months, making the summer months more affordable. Caribbean cruises can be particularly inexpensive.
"You can find a seven-day Western Caribbean cruise for less than $400 per person," Gibbons said.
Travelers may also save by having flexible schedules.
"Airline travel on a Tuesday, Wednesday and Saturday tends to be less expensive, along with scheduling departure times in the early morning or evenings," Gibbons advised.
And don't be afraid to book flights at the last minute, he added.
Alpha Flight Guru recently published a white paper examining the best ways to earn and maximize the use of credit card reward points for travel. Copies of "Airline Reward Points Gold Rush: How to Gain the Greatest Return on Credit Card Points and Frequent Flyer Miles" can be found online at AlphaFlightGuru.com/cfo.
About AlphaFlightGuru.com
AlphaFlightGuru.com provides access to deeply discounted international luxury flights. Through a combination of contract and consolidator fares, and redeeming frequent flier miles for client companies, AlphaFlightGuru.com saves its clients millions of dollars each year on luxury flights. With more than 30 years of experience in the travel industry, and access to exclusive deals, AlphaFlightGuru.com saves its customers money and time, and helps them fly in luxury on the world's best airlines.