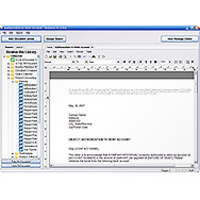 Over the last 6 months the response from our clients and new users has been very positive. So many testimonials are coming in saying that Business-in-a-Box has drastically increased people's productivity
Montreal, Quebec (PRWEB) December 12, 2007
BizTree Inc. (formerly known as Envision SBS), one of the top three providers of business and legal forms software, today announced that its user base of SMBs has reached 300,000 businesses.
Released in May 2007, the enhanced version of Business-in-a-Box has been very well received by users worldwide. "Over the last 6 months the response from our clients and new users has been very positive. So many testimonials are coming in saying that Business-in-a-Box has drastically increased people's productivity," said Jonathan Defoy, Co-President of BizTree.
Indeed, what Business-in-a-Box aims to do is accelerate your writing tasks. Any business document, contract, letter or proposal you would need on a daily basis is provided in the collection in the form of a pre-written template. Rather than spending hours writing documents from scratch, users simply need to customize professional templates that have been written by lawyers and consultants. New features such as "Document Auto-Fill" allow you to save time by having your information automatically entered in a document.
With 300,000 users worldwide and on-going software enhancements and additions, for example a new bilingual library of English and French documents, BizTree is fulfilling its mission of helping business people get more done in less time.
Business-in-a-Box
Business-in-a-Box is the ultimate document-writing tool. Including over 1,200 templates of essential contracts, agreements, letters, board resolutions, plans, proposals, policies, checklists and spreadsheets, Business-in-a-Box simplifies and accelerates all your writing tasks. Simply fill in the blanks and you'll be ready to do business in minutes!
About BizTree Inc.
Founded in 2001, BizTree develops and markets productivity software addressed to small/medium-sized businesses and home-office entrepreneurs. The company's mission is to empower business people from around the world to reach their full potential. Since its inception, BizTree has been striving to deliver high quality and practical yet affordable products.
BizTree is a privately owned corporation with offices in the United States (New York), Canada (Montreal) and the United Kingdom (London).
Contact:
Marc Berouti / Marketing Director
BizTree Inc.
555 Rene-Levesque Blvd. W., Suite 1500
Montreal, QC H2Z 1B1
Canada
1.866.999.3311 ext. 221
514.768.3311 ext. 221
http://www.biztree.com
# # #