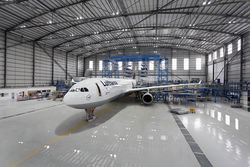 We are very focussed on our technology platform and continually work on our back-end systems to increase our search engine coverage – we are currently delivering up to 3.5million page views and 1million unique users every month
(Vocus) November 10, 2010
FeRFA is the only organisation dedicated exclusively to the resin flooring industry and has led the way in promoting the benefits of resin flooring as a high performance solution for industrial and commercial applications for over 40 years.
The association represents all the major product manufacturers, specialist contractors and surface preparation companies as well as raw material suppliers and specialist providers for the resin flooring Industry. The association encourages the development of technically advanced products and processes and rewards the progress members make in these areas.
FeRFA is recognised as the voice of the resin flooring industry by some of the UK's largest official bodies including the BSI, BBA, ConstructionSkills, CSCS, NBS, NSCC and RIBA.
Members are required to adhere to FeRFA's codes of practice, requiring the highest standards of commercial operation, project management, technical service, health & safety and business integrity.
FeRFA endorses and actively promotes "Qualifying the workforce" through the provision of NVQ and apprenticeship schemes, taking a leading role in developing national and international standards for resin flooring.
The association has around 80 members who are featured on the directory and through the association's involvement, members are eligible for an increased number of keywords and description text in their complimentary listings – both elements contribute to raising their position in web searches for the products and services they provide.
Daniel French, Sales Director at Businessmagnet said, "FeRFA members provide quite specialist services and we are delivering great results for them month after month – our itraka reporting system demonstrates how many visitors have looked at their content with us and how many browsers have clicked-through to their main site from the directory".
He added "We are very focussed on our technology platform and continually work on our back-end systems to increase our search engine coverage – we are currently delivering up to 3.5million page views and 1million unique users every month".
Established in 2004, the award winning online business directory works exclusively with b2b organisations in a broad range of sectors. "We feature over 120,000 businesses covering more than 50,000 product and service categories on the directory," stated French.
An Industry Associations area is also featured on the main navigation of the business directory where browsers can acquire detailed information about the relevant association to properly understand what it could mean to them as a customer of the member firm.
There is no charge for associations or their members to participate in the Program. For more information about the Directory, visit http://www.businessmagnet.co.uk For more information about FeRFA, visit http://www.ferfa.org.uk/html/ . If you would like information about adding your association or industry body and members to the directory, contact simon(dot)dunn(at)businessmagnet(dot)co(dot)uk
More about Businessmagnet
Considered by many businesses as the UK's premier b2b directory, Businessmagnet delivers more page views and unique users per advertiser than any other online directory. This audience concentration is key in delivering unbeatable value and return on investment for advertisers. Businessmagnet's Industry Associations Program is exclusive to the directory and continues to go from strength to strength as it builds momentum.
The Businessmagnet directory is precisely optimised to elevate advertiser's rankings in the natural search results with the World's leading search engines. The directory contains content catering exclusively for the b2b sector in the UK and Ireland with customers ranging from one-man businesses to some of the best known SMEs and organisations in the world.
Businessmagnet Limited, 9 Meadway Court, Meadway Technology Park, Stevenage, Hertfordshire SG1 2EF. http://www.businessmagnet.co.uk
###