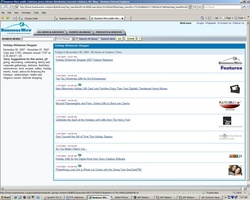 NEW YORK (PRWEB) November 14, 2007
Special topic series packages of timeless and semi-timeless features from the Feature News Service of Business Wire are available to the media at no charge.
Business Wire is distributing over 110 Feature Topic Series in 18 categories in 2008. Availability of the series may facilitate scheduling of special sections or programs for sponsorship. It can contribute to feature pages, talk shows and special on-air programming.
Encouraged are informational, advice, or human interest content from experts in the field; from consultants to manufacturers; or buyers and specialists, in areas such as home and garden, fashion, personal finance, consumer electronics, fitness, health, food, travel and holiday.
Feature Copy can be appropriate for use verbatim or as 100 word shorts or broadcast briefs. They are designed to facilitate print or broadcast interviews with experts available for interviews. Feature stories should have clear attribution up front in addition to references on how to get information. The material can also be retained for ease-of-use.
Feature News content can be reviewed on Business Wire's site at:
http://home.businesswire.com/portal/site/home/?epi_menuItemID= 914675349d013d0886c22940c6908a0c&epi_menuID=e4336a0e3afcfeb6efaaa9e27a 808a0c&epi_ baseMenuID= 384979e8cc48c441ef0130f5c6908a0c
View the 2008 Feature Topic Series Editors Transmission date schedule at:
http://home.businesswire.com/portal/binary/com.epicentric.content management.servlet.ContentDeliveryServlet/services/images/tmb /Nav%2520Ads/Media/Features_%2528media_version%2529.pdf
Stories in the series move at 4:35 a.m. ET on the transmission date schedule.
To receive the Business Wire news feed or register for other relevant news of interest, Contact mediarelations@businesswire.com or features@Businesswire.com or Angela Mendola, Manager of Strategic Products 212-752-9600.
About Business Wire
Business Wire, a Berkshire Hathaway company, is utilized by thousands of member companies and organizations to transmit their full-text news releases, regulatory filings, photos and other multimedia content to journalists, news media, trade publications, institutional and individual investors, financial information services, regulatory authorities, Internet portals, information web sites, business-to-business decision-makers and consumers worldwide. With a news distribution network spanning 150 countries and 45 languages, Business Wire's multi-channel delivery network has access to some 60 international and national news agency networks throughout the Americas, Europe, Asia, the Middle East and Africa.
The Business Wire news network is powered by its patented NX high-speed data platform and supports XML, XHTML and XBRL code to deliver the most sophisticated news file to enhance news release interactivity, customization and search engine optimization. Business Wire has 30 bureaus in cities including New York, San Francisco, Los Angeles, Chicago, Boston, Miami, Paris, Frankfurt, London, Brussels, Tokyo and Sydney with reciprocal offices throughout the world. Business Wire was founded in 1961.