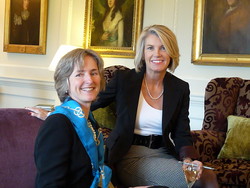 'I love being able to explore a new city with someone of similar interests' Amy Galloway, Director and Lawyer, Fort Lauderdale, USA
(PRWEB) January 22, 2010
Business travel has a glamorous image, and often it is glamorous. (think George Clooney spending most of his time in business class seats and deluxe hotels in his new movie 'Up in the Air'). But the flip side is that it can be boring, and a trip can leave the corporate traveller not knowing what to do or where to go.
http://www.whenthemeetingsover.com is a new network for business travellers, it connects people who are in the same city at the same time and allows members to link up for email exchange about the best places to go, or, they can meet up 'when the meeting's over', to explore the city, have a game of golf/tennis, go for coffee, develop business contacts… whatever - the site helps members make contact with others who are travelling.
Most people who have been on a business trip flick through the hotel's 'Where' magazine, to find out what to do/where to go. But then it is tedious to go out alone, or, just wanting to get an endorsement of the places to go. http://www.whenthemeetingsover.com is perfect site to help. Locating people of similar interests and destinations, it can link like-minded people together.
Entrepreneur, Brian Catton, says 'On a recent trip to Phuket, and after my meeting, I wanted to play tennis, but who with? I waited ages at the hotel's courts, eventually someone showed up. He was Swedish, we were of a similar standard and we had some great matches. He had interests in a Pro Am tennis event in Sweden and his company was building a resort in Phuket. Coincidentally I also have property interests and I promote professional tennis. A lucky chance...
Then it hit me. There must be over one million people travelling on business every day, who might want to do something when the meeting's over. Or, to find out about a city from somebody else who is also travelling. London, Paris, Rome, Hong Kong, Shanghai, Sydney, New York, Los Angeles... for a site like ours the possibilities are endless! Poignantly there's a kinship amongst travellers, even strangers, and our site has the capacity to bring people together. Safely and at arm's length.'
The site is live, it has a forum and is constantly being updated and improved, and best of all it's free. Check out http://whenthemeetingsover.com
brian(at)whenthemeetingsover(dot)com
Brian +1 954 612 1540
Brian +44 7968 055497
###