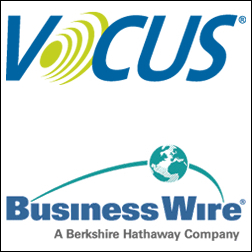 Vocus' PRWeb service is on the cutting edge of SEO and social media press release distribution
LANHAM, MD. (PRWEB) September 27, 2006 -
Business Wire, the global leader in news distribution, and Vocus, Inc. (NASDAQ:VOCS), a global leader in on-demand software for corporate communications and public relations, today announced that the two companies have entered into a strategic partnership in which Business Wire will use a private label version of Vocus' PRWeb press release distribution platform to provide a new search engine optimized (SEO) and social media distribution service. The partnership will utilize Vocus' proprietary PRWeb press release SEO methods and social media distribution channels to give Business Wire customers maximum visibility on the internet and in social media networks.
Vocus will create and host for Business Wire a co-branded version of the PRWeb direct-to-consumer and SEO service. Business Wire members may disseminate press releases so they will be indexed by major search engines, distributed to thousands of news sites, including Google News and Yahoo News, and delivered through more than 20,000 RSS feeds that collectively reach tens of millions of consumers and thousands of journalists daily.
"Vocus' PRWeb service is on the cutting edge of SEO and social media press release distribution," said Cathy Baron Tamraz, president & CEO of Business Wire. "Using the PRWeb platform to extend our already robust capabilities with search engine, blog, and online news site distribution will ensure that Business Wire remains the leading global provider of news to all types of media."
In addition to creating and hosting the new Business Wire service, Vocus will offer its PRWeb customers a convenient way to optionally distribute their press releases via Business Wire's proprietary global news distribution network, the most comprehensive in the world.
"Business Wire's selection of Vocus to create and host its EON newswire is an acknowledgment of the broad appeal and rapid adoption of the PRWeb service," said Rick Rudman, president & CEO of Vocus, Inc. "Business Wire customers will enjoy a measurable increase in their web presence and Vocus customers will have convenient access to Business Wire's comprehensive global wire distribution services."
About Business Wire
Business Wire, a Berkshire Hathaway company, is utilized by thousands of member companies and organizations to transmit their full-text news releases, regulatory filings, photos and other multimedia content to journalists, news media, trade publications, institutional and individual investors, financial information services, regulatory authorities, Internet portals, information web sites, business-to-business decision-makers and consumers worldwide. With a news distribution network spanning 150 countries and 45 languages, Business Wire's multi-channel delivery network, has access to some 60 international and national news agency networks throughout the Americas, Europe, Asia, the Middle East and Africa.
The Business Wire news network is powered by it's patented NX high-speed data platform and supports XML, XHTML and XBRL code to deliver the most sophisticated news file to enhance news release interactivity, customization and search engine optimization. Business Wire has 30 bureaus in cities including New York, San Francisco, Los Angeles, Chicago, Boston, Miami, Paris, Frankfurt, London, Brussels, Tokyo and Sydney with reciprocal offices throughout the world. Business Wire was founded in 1961 by Chairman Lorry I. Lokey, veteran journalist and public relations executive. Cathy Baron Tamraz is president and CEO.
About Vocus, Inc.
Vocus (NASDAQ: VOCS) is a leading provider of on-demand software for corporate communications and public relations. Our web-based software suite helps organizations of all sizes manage local and global relationships and communications with journalists, analysts, public officials and other key audiences. Our software helps customers manage media relations, news monitoring and analysis, interactive email campaigns, online newsrooms, and government relations activities. Vocus software is delivered as an easy-to-use and cost-effective annual subscription, with no need for internal hardware, software or IT support. Our software is currently available in five languages, and is in use by customers around the world. Vocus is based in Lanham, MD with offices in North America, Europe and Asia.
###
This release contains "forward-looking" statements that are made pursuant to the Safe Harbor provisions of the Private Securities Litigation Reform Act of 1995. Statements that are predictive in nature, that depend upon or refer to future events or conditions, or that include words such as "may," "will," "expects," "projects," "anticipates," "estimates," "believes," "intends," "plans," "should," "seeks," and similar expressions. Forward-looking statements involve known and unknown risks and uncertainties that may cause actual future results to differ materially from those projected or contemplated in the forward-looking statements. Forward-looking statements may be significantly impacted by certain risks and uncertainties described in Vocus' filings with the Securities and Exchange Commission.