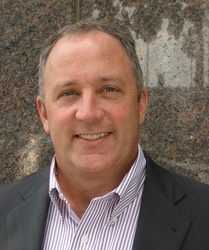 We are pleased to have David's sales expertise and knowledge of the public relations industry on our Business Wire team
SILICON VALLEY (PRWEB) October 29, 2008
Bradway has more than 20 years of experience in marketing strategy, corporate development and sales of marketing services and B2B solutions, most recently at Ottawa-based public relations software company dna13, where he was Director of Corporate Client Development. At Business Wire, Bradway will lead the Silicon Valley bureau's business development and client services.
"We are pleased to have David's sales expertise and knowledge of the public relations industry on our Business Wire team," said Frank Yetter, Senior Vice President at Business Wire. "We believe his background fits well with Business Wire's mission of providing expert guidance, customer service and thought leadership to the important Silicon Valley communications community."
In addition to his time at dna13, Bradway has held leadership positions at Kadence Business Research, WHI, International Data Group and MediaMap, where he was Regional Director for the Western United States for four years. Bradway is member of Public Relations Society of America (PRSA), International Association of Business Communicators (IABC) and CMO Council.
A Boston native, Bradway earned a degree in Economics from Framingham State College and studied Business Law at Suffolk University. In his spare time, David is an avid equestrian and also enjoys cycling, hiking and skiing.
About Business Wire
Business Wire, a Berkshire Hathaway company, is utilized by thousands of member companies and organizations to transmit their full-text news releases, regulatory filings, photos and other multimedia content to journalists, news media, trade publications, institutional and individual investors, financial information services, regulatory authorities, Internet portals, information web sites, business-to-business decision-makers and consumers worldwide. With a news distribution network spanning 150 countries and 45 languages, Business Wire's multi-channel delivery network has access to dozens of international and national news agency networks throughout the Americas, Europe, Asia, the Middle East and Africa.
The Business Wire news network is powered by its patented NX high-speed data platform and supports XML, XHTML and XBRL code to deliver the most sophisticated news file to enhance news release interactivity, customization and search engine optimization. Business Wire has 31 bureaus in cities including New York, San Francisco, Los Angeles, Chicago, Boston, Miami, Paris, Frankfurt, London, Brussels, Tokyo, Toronto and Sydney with reciprocal offices throughout the world. Business Wire was founded in 1961.
Keywords: David Bradway, Silicon Valley, Business Wire, San Francisco