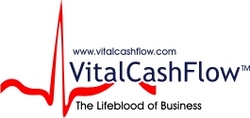 We have a way to stimulate the economy by providing access to funding for small businesses with a rewards program to help them further grow their customer base
Orlando, FL (PRWEB) February 12, 2009
With the U.S. economy slowing down and business credit hard to access, Orlando-based Vital Cash Flow has an easier way for small business owners to not only secure important business funding to operate, but also enjoy a new rewards program that leads to discounted, or free, ways to prospect for new customers.
"We have a way to stimulate the economy by providing access to funding for small businesses with a rewards program to help them further grow their customer base," said Sonia Crittendon with Vital Cash Flow. "Our Cash & Customers Program provides what businesses need in this slowing economy at a price they can afford."
The cash is provided through factoring of the firm's future credit card and cash receivables. Businesses need to generate $10,000 or more in credit card and cash receivables monthly to qualify for the program. The factoring program has a 90 percent acceptance rate as long as there are no significant financial issues with the firm or its owners.
"We have a strong track record of being able to provide a cash flow solution to businesses turning over sales but having problems meeting financial obligations," Crittendon said. "Just being able to convert future sales into cash flow is what many businesses need right now."
Businesses are also looking for ways to affordably grow their customer base during the current economic recession. The Cash & Customers Program provides two direct mail miles for every dollar received in business cash flow financing. The miles can be redeemed for direct mail and internet marketing efforts that could help the firm secure new customers and increase market share at a time when competitors may be shrinking.
"This is really the time to expand marketing to gain new customers and market share," Crittendon said. "Our Cash & Customers Program allows businesses to have the best of both worlds - a source of liquid cash financing and a low cost method to attract new customers."
About Vital Cash Flow
Vital Cash Flow is a company that specializes in Business Financing and Cash Flow Management Solutions that help your company recover debt, obtain business cash flow financing, factor account receivables, sell excess inventory or business capacity, lease equipment, secure an SBA Loan, process checks and credit cards, offer gift and loyalty programs, perform recurring billing, acquire new customers, and increase sales. Vital Cash Flow's extensive service portfolio encompasses both leading and specialized niche solutions based on your needs. For more information, call 888-465-0247 or visit online at http://www.vitalcashflow.com.
Media Contact:
Sonia Crittendon
Vital Cash Flow
888-955-3863
###