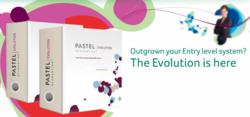 We're a global company localizing how things get done, or 'Glocal' as we like to call it
Melbourne, Victoria (PRWEB) February 25, 2013
Over the last three years Usage Business Solutions, a business management solutions provider, has seen their new sales increase by an impressive 15% to 20% year on year. Assisted by Elev8 Australia, their top tier product Sage Pastel Evolution has enabled them to provide highly personalized solutions for their clients' challenging demands. Usage Business Solutions' popularity and new sales growth was no accident because Managing Director Jeff Lewis, with his 25 years experience in building distribution channels, recognized early on that "Our customers need things done fast, so we kept pushing the boundaries until we could provide them with the technology and speed they require. The Sage Pastel Evolution product along with the assistance of Elev8 Australia's team has helped us achieve that."
Technology has a history of constantly evolving, which has made today's marketplace a fast and furious world of deals being made or lost in mere moments. Long gone are the days of meeting with prospects, then taking paperwork back to the office, to finish the transaction a week later. Today's successful businesses get their transactions done instantly with a tap of an iPad or tablet, regardless of where they are.
In order to become an organisation that can thrive in a fast paced world, a company must throw out their old systems and bring in the new. "The old concepts of accounting and financing solutions are gone now," says Mr. Lewis, "What our customers need are more integrated full solutions that take in all the functionality of their business. Be it warehouse stock holdings, financial reporting, technician communications, or instant sales, they need software that fits that depth of functionality."
Usage Business Solutions has enabled businesses with outdated or cumbersome systems to easily transition into today's fast paced marketplace with the expert help of Elev8 Australia, who have been managing the sales and service of the Sage Pastel Evolution product. The SQL mid-tier business management software has allowed business's reps and technicians to ditch the slow course of paperwork processing and manual communications, by giving them the ability to complete tasks quickly and efficiently.
The business management solutions experts have helped a large range of companies in all industry sectors by providing these specialized solutions. Mr. Lewis remarks, "For example, in the service industry, which is a huge segment of the Australian economy, companies need mobility for their techs and sales people on the road. Being able to use an iPad or other mobile device to process sales or requests instantly is what the market is demanding."
Along with instantaneous processing, Usage Business Solutions' Evolution product has enabled immediate inter-connectivity for reps on the road, or in remote locations, to easily communicate data and information with their main offices. Mr. Lewis continues by saying the rapid response and instant communication that Sage Pastel Evolution provides "is becoming the most important factor in business management solutions today."
He goes on to say, "Multi-site and multifaceted companies with autonomous operations which require head office synching are really benefiting from Sage Pastel Evolution." Although able to personalize for any requirement, Usage Business Solutions has concentrated on business areas such as service management, mobility, retail POS, and branch accounting.
The leading edge business management solutions company has been the working with Elev8 Australia, who have implemented and serviced the Evolution software in Australia for many years. Usage Business Solutions now have nearly 50 resellers for their innovative business management solutions software across Australasia. Mr. Lewis comments about his company's reach around the region, "We're a global company localizing how things get done, or 'Glocal' as we like to call it."
When Usage Business Solutions partnered up with service provider Elev8 Australia, it allowed Mr. Lewis's company to give his clients greater functionality with first-rate servicing and support. "We're here to be the foundation and support to our channel partners like Elev8 Australia" says Mr. Lewis. He also remarks that "working with Elev8 Australia is great. They're actually a lot of fun, yet very professional. They're specialists with people who get down to business."
Mr. Lewis further comments that Usage Business Solutions' great reputation and increased sales has resulted from providing clients with exactly what they need, which is cutting edge technology and rapid response speed. "And if it wasn't for Elev8 Australia's excellent service, we wouldn't be as esteemed as we are today."
With increased momentum and forward-thinking, Usage Business Solutions has brought countless companies up to speed in today's marketplace. Combine their ability to produce and personalize business solutions with Elev8 Australia's professional implementation and reliable customer service, it's easy to see how Usage Business Solutions have achieved an impressive 15% - 20% in new sales year on year, over the last three years.
Mr. Lewis finishes by saying, "Our focus going forward is to continue finding innovative solutions which provide the speed that businesses demand transactions be done at. Thankfully, we're at the leading edge of our industry with our Sage Patel Evolution product and Elev8 Australia's expertise."
To learn more about the Sage Pastel Evolution Business Management program, visit http://www.usagebusiness.com/ or for more information about Elev8 Australia's programs which integrate well with Evolution, such as the Insphire software, visit http://www.elev8australia.com
About Usage Business Solutions
Usage Business Solutions is the authorized provider in Australia & New Zealand of Sage Pastel Business Software. They sell exclusively though their distribution channel and provide technical support, consulting and software training.
Today Sage Pastel products are actively sold in over 52 countries located throughout the world and available in eight languages. Businesses across the world utilise Sage Pastel as a critical component in the running of their businesses on a daily basis. Whether it's Financial Software enabling better cash flow management, CRM Software helping to build profitable customer relationships or Business Management Software to improve efficiencies, Usage Business Solutions' software and services enable customers to run their businesses more effectively, and overcome the challenges of today's business environment.
Utilising the extensive expertise of their Business Partner Channel, and calling on a wide range of experience, knowledge and reliable customer service, customers can be assured that the Sage product range will meet individual requirements and exceed expectations.
To learn more about Usage Business Solutions, click here.