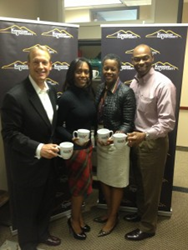 ...the perception of your competence should not be left to chance.
Atlanta, GA (PRWEB) December 11, 2012
On Tuesday December 4th, 2012, Alvin Miles host of Global Leader Radio™ on Business RadioX®, was joined in-studio by Legacy Executive Benefits LLC's David Harper & Denise Chisolm and Your SweetSpot's Dr. Kym Harris to talk about taking control of how others perceive our competence.
The panel agreed that the perception of your competence should not be left to chance. During the following seven items were discussed.
1. The perception of competence extends far beyond performance.
2. FEAR is wasteful.
3. It is important to raise your "relational" capital.
4. Giving AND seeking behavior-based feedback is critical to success.
5. Combining an executive MBA with a diverse professional background provides the confidence to take on new assignments outside your comfort zone.
6. To "manage your margin"- carve out time in your day to organize, prioritize & reflect.
7. Keeping the idea that "Wherever I go, I follow myself!" will help you present yourself the way you want to be thought of.
To learn more about the perception of competence and all of the featured guests, listen to the complete interview on the Global Leader Radio page for Business RadioX®.
About Global Leader Radio™
http://globalleaderradio.businessradiox.com/
Global Leader Radio™ airs Tuesdays at 2:30 p.m. Eastern on BusinessRadioX.com and features conversations with those responsible for cultivating high potential leadership in corporate, entrepreneurial and not-for-profit organizations. Host Alvin Miles and his guests "Discuss Ideas that Matter With People Who Care℠" with a particular focus on those individuals and organizations doing an exemplary job of identifying, attracting, developing and retaining high potential talent.
Global Leader Radio™ is brought to you by the award-winning Executive MBA Program (EMBA) at the Michael J. Coles College of Business.
.About Business RadioX® :
Business RadioX® provides a turnkey solution for business owners who want to leverage the power of internet radio to meet their best prospects, establish credibility for their organization and heighten the placement of their brand in search engines rankings. With a professional venue and a proven formula, Business RadioX® helps hosts podcast their shows and create a regular stream of dynamic content to share with their prospects and feed the search engines every week. Programs are recorded and streamed live to the internet from our studios in the greater Atlanta area. For more information or to hear a live show, visit: http://www.businessradiox.com.
###