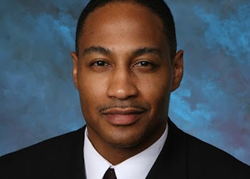 He also emphasized the need to be able to "articulate your strategy" and warned that often a brief conversation over the phone can make or break a lending deal.
Atlanta, GA (PRWEB) March 10, 2013
On Tuesday February 26th, 2013, Elizabeth Gordon, host of Results Matter radio on Business RadioX® and producer Dana Barrett were joined in-studio by Charles Williams, a strategy and finance expert and Partner with WGC Commercial Lending to talk about the difficulties business face raising capital and why traditional lenders are still a viable option.
WGC Commercial Lending is a national full service commercial finance company providing a variety of business and commercial real estate financing to small and medium size businesses as well as commercial real estate owners and investors. In his current role, Charles works with his clients to gain an in-depth understanding of their businesses and determine the appropriate financing to support their unique business strategy and objectives.
Charles has over 15 years of strategy and finance experience working companies of all sizes and across a range of industries and was happy to share advice with listeners thinking about going to a lender for funds.
During the interview, Charles noted that prospective borrowers have to be ready to answer a standard set of questions that any lender may ask, the first being "how much do you need and why". He stressed that the why of the loan is critical, explaining that banks want to know what you will use the funds for and how you will pay them back. He also emphasized the need to be able to "articulate your strategy" and warned that often a brief conversation over the phone can make or break a lending deal.
As the interview progressed Charles and Elizabeth talked about how banks decide who to loan to and what other types of funding are available.
To learn more about commercial lending or about WGC Commercial Lending specifically, listen to the complete interview on the Results Matter Radio page for Business RadioX®
About Burr & Forman's Results Matter Radio
http://resultsmatterradio.businessradiox.com/
Results Matter Radio brings you pertinent business information and real life solutions to help drive desired results – whatever your business may be. We interview Business Leaders and Trusted Advisors about the most important issues in Commercial Real Estate, International Commerce, Healthcare, Family Business, Corporate Litigation, Finance, Philanthropy, Estate Planning, and more.
About Business RadioX® :
Business RadioX® provides a turnkey solution for business owners who want to leverage the power of internet radio to meet their best prospects, establish credibility for their organization and heighten the placement of their brand in search engines rankings. With a professional venue and a proven formula, Business RadioX® helps hosts podcast their shows and create a regular stream of dynamic content to share with their prospects and feed the search engines every week. Programs are recorded and streamed live to the internet from our studios in the greater Atlanta area. For more information or to hear a live show, visit: http://www.businessradiox.com.
###