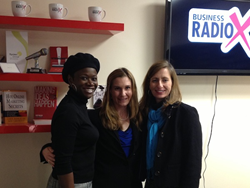 The best way to break the cycle of generational poverty is education and prevention.
Atlanta, GA (PRWEB) March 12, 2013
On Tuesday March 5th, 2013, Elizabeth Gordon, host of Results Matter radio on Business RadioX® and producer Dana Barrett were joined in-studio by the Atlanta Women's Foundation Interim Director Deborah Ryan and Board Chairperson Danita Knight and to talk about some of the programs their organization supports.
The Atlanta Women's Foundation(AWF) started in 1986 under the name "The Atlanta Women's Fund" as part of the Community Foundation for Greater Atlanta. In 1998, the fund had grown in importance and credibility and became independent. Since that time AWF has invested more than $12 million in Atlanta nonprofit organizations working to end the generational cycle of poverty for women and girls. As the only public foundation in Georgia dedicated solely to women and girls, AWF supports women and girls-serving organizations through strategic grantmaking and programs to help its grant recipients become more effective in achieving their missions.
Deborah and Danita explained the difference between chronic poverty and generational poverty and explained that education and prevention is the best way to break the cycle.
One of the other programs the women talked about was their Women on Board program. Created in 2000, the program was designed to increase the number of women on nonprofit boards in Metro Atlanta by providing effective board governance training to Atlanta women and connecting participants to nonprofit organizations. Since its inception, the program has trained over 1,700 women in board governance and leadership skills.
To learn more about The Atlanta Women's Foundation, listen to the complete interview on the Results Matter Radio page for Business RadioX®
About Burr & Forman's Results Matter Radio
http://resultsmatterradio.businessradiox.com/
Results Matter Radio brings you pertinent business information and real life solutions to help drive desired results – whatever your business may be. We interview Business Leaders and Trusted Advisors about the most important issues in Commercial Real Estate, International Commerce, Healthcare, Family Business, Corporate Litigation, Finance, Philanthropy, Estate Planning, and more.
About Business RadioX® :
Business RadioX® provides a turnkey solution for business owners who want to leverage the power of internet radio to meet their best prospects, establish credibility for their organization and heighten the placement of their brand in search engines rankings. With a professional venue and a proven formula, Business RadioX® helps hosts podcast their shows and create a regular stream of dynamic content to share with their prospects and feed the search engines every week. Programs are recorded and streamed live to the internet from our studios in the greater Atlanta area. For more information or to hear a live show, visit: http://www.businessradiox.com.