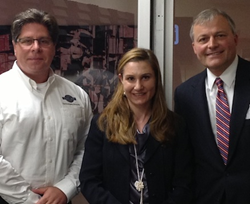 There has been a lot of talk about reform, but talk is cheap.
Atlanta, GA (PRWEB) March 18, 2013
On Tuesday March 12th, 2013, Elizabeth Gordon, host of Results Matter radio on Business RadioX® and Burr & Forman Partner Anton Mertens were joined in the downtown Atlanta studio to by Scott Williams of The Stonehaven Group. The panel talked about the current state of immigration law, the reform that is in the works and the impact on business today and going forward.
Anton Mertens is a Partner in Burr & Forman's Labor and Employment Practice Group with a focus on immigration law. His concentration consists of business immigration matters for investors, managers, executives and technical personnel and his expertise includes business and professional visas, labor certifications, immigrant visas, consular representation and citizenship for foreign executives, managers and professionals. Anton has also consulted and advised clients on a number of employment issues including compliance procedures in verifying the work eligibility of new employees as required under the I-9 "workplace compliance" provisions of federal law.
During the interview, Anton noted that it is "well known" that the immigration system is broken. He says, "there has been a lot of talk about reform", but warns that, "talk is cheap".
Scott Williams is the founder of The Stonehaven Group-HR, LLC, an international human capital support and advisory firm. Started in 2001, TSG-HR employs a global network of human capital experts reporting to either TSG- HR's North American office in Atlanta, or their London, England headquarters. Operating in 54 countries, TSG-HR's staff of certified HR experts assists clients with a variety of HR issues including immigration laws and regulations for employees.
As the discussion got into what companies are doing and why, Scott explained that "most companies want to do the right thing", but they just don't know how. And further added that many that are in violation of current regulations don't even know it.
To learn more about immigration reform and business, listen to the complete interview on the Results Matter Radio page for Business RadioX®
About Burr & Forman's Results Matter Radio
http://resultsmatterradio.businessradiox.com/
Results Matter Radio brings you pertinent business information and real life solutions to help drive desired results – whatever your business may be. We interview Business Leaders and Trusted Advisors about the most important issues in Commercial Real Estate, International Commerce, Healthcare, Family Business, Corporate Litigation, Finance, Philanthropy, Estate Planning, and more.
About Business RadioX® :
Business RadioX® provides a turnkey solution for business owners who want to leverage the power of internet radio to meet their best prospects, establish credibility for their organization and heighten the placement of their brand in search engines rankings. With a professional venue and a proven formula, Business RadioX® helps hosts podcast their shows and create a regular stream of dynamic content to share with their prospects and feed the search engines every week. Programs are recorded and streamed live to the internet from our studios in the greater Atlanta area. For more information or to hear a live show, visit: http://www.businessradiox.com.
###