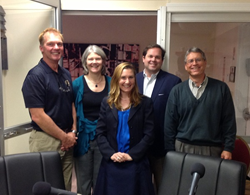 ...in order for green programs to work, all the employees need to be on board.
Atlanta, GA (PRWEB) March 26, 2013
On Tuesday March 19th, 2013, Elizabeth Gordon, host of Results Matter radio on Business RadioX® and Burr & Forman Counsel Scott Hitch were joined in the downtown Atlanta studio to by Dan Bramblett, Marty Tomlinson and Bernie Burgener of the Green Chamber of the South to discuss the organizations roots and mission as well as their new Greenhouse Accelerator program.
Marty Tomlinson is the Executive Director of the Green Chamber of the South. She handles the day-to-day operations of the Green Chamber and works with the Board and its Committees in developing programs, growing membership and promoting the success of sustainability throughout the Southeast. Marty noted that it "always takes a champion" to get a green initiative going at a company. And added that the people drive the move to be green and sustainable. She explained that in order for green programs to work, all the employees need to be on board.
Bernie Burgener is a member of the Green Chamber of the South and leads the Chamber's Greenhouse Accelerator, whose objective it is to create green jobs through the support of early-stage green startups and sustainability initiatives within existing companies. Bernie explained that the Greenhouse Accelerator is different because they stay with their startups for a longer term. Sometimes as long as 30 months. And they provide a team of advisors for each start-up who meet monthly to keep the fledgling company accountable.
Dan Bramblett is with Estes Services and serves as Chairman of the Board for Green Chamber of the South. He talked about the group's plans for growth going forward and said that "one of the most exciting things about the Green Chamber is that even though people are coming from different backgrounds and industries, they are like brothers and sisters who share the same values and have the same goals."
Scott Hitch, Counsel with Burr & Forman is also a member of the Green Chamber and practices in Burr's Environmental group working with clients in all aspects of environmental law. He explained that green business have the same challenges as all businesses with the added challenge of working with new technologies and focusing on a triple bottom line.
To learn more about the Green Chamber of the South, listen to the complete interview on the Results Matter Radio page for Business RadioX®
About Burr & Forman's Results Matter Radio
http://resultsmatterradio.businessradiox.com/
Results Matter Radio brings you pertinent business information and real life solutions to help drive desired results – whatever your business may be. We interview Business Leaders and Trusted Advisors about the most important issues in Commercial Real Estate, International Commerce, Healthcare, Family Business, Corporate Litigation, Finance, Philanthropy, Estate Planning, and more.
About Business RadioX® :
Business RadioX® provides a turnkey solution for business owners who want to leverage the power of internet radio to meet their best prospects, establish credibility for their organization and heighten the placement of their brand in search engines rankings. With a professional venue and a proven formula, Business RadioX® helps hosts podcast their shows and create a regular stream of dynamic content to share with their prospects and feed the search engines every week. Programs are recorded and streamed live to the internet from our studios in the greater Atlanta area. For more information or to hear a live show, visit: http://www.businessradiox.com.