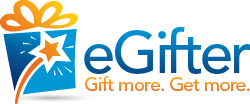 The ability to use your LinkedIn Profile adds a whole new dimension to the eGifter app.
Orlando, FL (PRWEB) March 04, 2013
GroupGifting.com, the developers of eGifter, the web and mobile social gifting app, debuted its integration with the LinkedIn social network today at the PREPAID EXPO in Orlando, Florida. eGifter users can now send digital gift cards to their LinkedIn Connections.
"Social gifting in a business context is now a reality," said Tyler Roye, co-founder and CEO of GroupGifting.com, the developer of eGifter. "The app addresses real business needs like sales rewards, employee recognition and incentives, business development, customer appreciation, and even holiday gift-giving," said Roye. "We are making it easier to send business gifts in a way that is personal yet professional."
A LinkedIn member can log into the eGifter app and see all of their LinkedIn Connections, then simply select a gift recipient, select a digital gift card from over 100 national brands, and personalize the gift with a message. The recipient will receive a notification of the gift in their LinkedIn Inbox. The organizer also has the option to send the gift notification via email and text message. Some gift cards available in eGifter have special offers or bonuses attached, used by merchants to acquire new customers while driving sales of their gift card.
The new LinkedIn option opens opportunities for merchants to acquire new customers and reactivate existing ones through innovative campaigns in the enormous B2B market using the same social gifting platform they use for their consumer campaigns. "Our brand partners are very excited about this new opportunity," said Tracey Klein, eGifter's VP of Business Development. "The LinkedIn option allows them to target a whole new market while using tools that they are familiar and comfortable with."
Fifty-two percent of U.S. businesses use gift cards to recognize and reward their employees, sales people, channel partners, or customers, and the total size of the B2B gift card market is $22.7 billion, according to the "B2B Gift Card Market Study" from the Incentive Research Foundation in 2012.
"Gift cards are a universal business gift; nobody wants a pen or a fruit basket anymore," said Klein, citing a First Data study that found the average consumer would prefer to receive a $25 gift card over an item valued up to $45. "The ability to use your LinkedIn Profile adds a whole new dimension to the eGifter app."
In the next release of eGifter, gift givers will be able to invite other LinkedIn Connections who may want to contribute to a gift, making it a group gift. Group gifts can then be given with eGifter for retirement parties, to celebrate a colleague's promotion, birthday, wedding, or new baby.
Managers of B2B gift card programs and organizations looking for a corporate gifting solution interested in learning how eGifter can help them can visit http://www.groupgifting.com. The site also provides information for merchants (retailers, restaurants, ecommerce sites, etc.) interested in participating in the eGifter solution to accomplish their social and mobile commerce goals.
About eGifter
eGifter is an innovative social and mobile solution designed to revolutionize the act of gift giving. It creates a fun and social experience for consumers while helping retailers unlock the viral potential of gift giving in social spaces. Founded in 2011 by a group of proven tech entrepreneurs, eGifter is the flagship app of New York-based GroupGifting.com. Try it out at eGifter.com or download the mobile app from iTunes or Google Play.