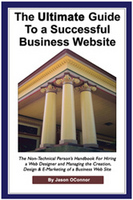 If you think you're about to be laid off or already have been, or if the money you make today is just not cutting it, you ought to consider starting an online business
Waltham, MA (PRWEB) November 13, 2008
Brandon Oak Publishing has published The Ultimate Guide To A Successful Business Website - The Non-Technical Person's Handbook For Hiring a Web Designer and Managing the Creation, Design & E-Marketing of a Successful Business Website by Jason OConnor, founder and CEO of Oak Web Works, LLC, a Web design, development and e-marketing firm.
The hardcover in the Business and Internet Marketing category is available worldwide on book retailer websites such as Amazon and Barnes & Noble for a suggested retail price of $39.00.
Mr. OConnor's new book is particularly timely given the current economic crisis that has hit so many Americans and people worldwide. "If you think you're about to be laid off or already have been, or if the money you make today is just not cutting it, you ought to consider starting an online business," says Mr. OConnor, "For that, you'll need a successful website and my new book will teach you exactly how to get it done properly."
About the Book
The book is divided into three parts, The Fundamentals of Every Website, How to Hire a Web Designer or Web Design Company and The Planning and Implementation of a Successful Business Website.
The book takes the reader on a tour of the basics of websites and the Internet and explains how revenues can be made in many different ways with a variety of websites. It goes on to help the reader in every step of the way when trying to navigate the shark-infested waters of hiring a Web design firm or freelancer. And the book's final, yet substantial third part explains in detail what the proper process is in going from an idea or an outdated website to a brand new, money making, successful business website. Learn more about this Web business book here.
About the Author
Jason OConnor is the CEO of Oak Web Works, LLC and has also been a webmaster for small, high-tech start-ups and large organizations alike. He has worked as a Web person in some capacity before, during and after the Internet bubble and has done Web work for M.I.T, Intel, and New York Times best-selling authors, among many other clients worldwide. Mr. O'Connor also currently designs, builds and markets many of his own websites today, including ecommerce websites, informational sites and blogs. His periodic online newsletter, The Net Gazette (http://www.thenetgazette.net) and the original articles on the Oak Web Works website are two other areas where people can read his writing.
###