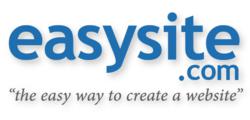 (PRWEB) March 28, 2013
Easysite has been in business since 2005 helping individuals create websites however Easysite is now launching a new business website design option called the "We-Build-It" option which allows business owners to pay a flat fee (less than $1,000) to have Easysite.com professionals create a business website from the ground up, even including the creation of a company logo. After the website is up and running the business owner simply pays a $19.95 monthly fee in order to have all the tools to update, change, or add pages to their website by themselves without having to know any code. Easysite reports that updating their business websites is as simple as editing a Word documents or logging into an email account to send an email.
The owner of Easysite has heard countless times over the years that business owners want business website development that is not only affordable but that comes from someone that is professional, dependable and reliable. In light of all of this, Easysite went to work and developed the "We-Build-It" option that is now starting to quickly gain popularity.
For other businesses owners that may not have the budget to have Easysite's professionals create a site for them, Easysite has also created a business website builder platform that allows business owners to create a professional looking website that is just as easy as creating a Facebook account. The best part about this option is that there is no up-front fee, just a monthly $19.95 fee that pays for your top level hosting, phone support, video support, email support, daily backups, and all the tools you need in order to grow your business such as forums, blogs, video and photo gallery and so much more. As more and more businesses go online, Easysite.com has positioned itself to be one of the best choices for small businesses to create their own websites on the net today.