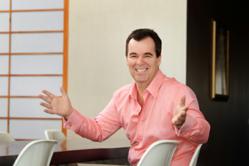 Faced with ever-rising living costs, home ownership has become a luxury for young people, not a birth right
London, England (PRWEB) March 07, 2013
Real estate investment strategist, Rick Otton, has revealed he will hold a Zero-Debt Property Cashflow Conference later this year to offer UK residents unconventional but proven strategies on how to make money in real estate, even without a deposit or traditional banking finance.
The event announcement coincides with the release of a startling new Home Builders' Federation report and official government figures which describe Britain's young people as a 'locked out generation' struggling to break into home ownership.
"One of the most shocking facts to emerge from this new data is that the average young Londoner is being forced to save for almost a quarter of a decade for a home deposit," Mr Otton said.
"The numbers of first home buyers has declined from 500,000 a year a decade ago to 200,000, the lowest levels for a quarter of a century.
Faced with ever-rising living costs, home ownership has become a luxury for young people, not a birth right. It's a shameful indictment of our society that things have declined to this point for the next generation."
Houses for a Pound Fame
Rick Otton is best known in the UK as the creator of the 'Houses for a Pound' strategies that he first introduced 10 years ago, in 2003. He holds ultimate wealth summits across the globe for property investors and home owners desperate for fresh and innovative alternatives to buying and selling property.
As an unconventional property investment mentor, some of Mr Otton's key strategies relate to growth and cash flow, asset protection, positive cashflow from day one, buy-to-let options and the accumulation of a significant property portfolio, all with no or little personal money.
"My experience over the past two decades has shown me that it's more than possible for property investors to make money through property no matter what fluctuations the market is experiencing," he said.
"The best thing is that you don't need to be a property mastermind or have any experience in real estate investing to employ my techniques. If you have an open mind and are willing to embrace new ways of making the ultimate property deals, you'll have a fantastic chance at accumulating long term wealth."
For more details on the Zero-Debt Property Cashflow Conference (being held 19-21 April 2013) visit RickOtton.co.uk.
The event will be highly interactive and hands on, with a spotlight on teaching participants how to build a passive income stream from property investing so they can retire early or quit work.
About Rick Otton
Rick Otton has spent decades making money by snapping up inexpensive real estate and putting it to work building wealth.
He is the founder and CEO of We Buy Houses, which operates in the U.S., U.K., Australia and New Zealand putting his strategies to work every day.
Otton received his start in alternative real estate investment in 1991 and within a year acquired 76 properties. In the following years, he made a fortune using his low-risk, high-reward strategies to inexpensively acquire real estate.
Now, Otton shares the wealth by sharing the wisdom, teaching others how to buy and sell real estate without cutting banks and other middlemen in on the deal.
In 2008 Rick revealed his strategies in the United Kingdom and became the creator of 'Houses for a Pound'. Otton has been featured in a variety of television programs and magazines.
Details of Mr Otton's UK Zero-Debt Property Cashflow Conference are at RickOtton.co.uk