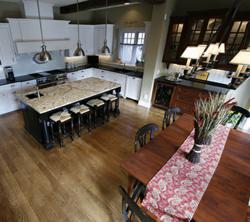 Wayzata, MN (PRWEB) March 03, 2013
Homeowners, buyers, and investors seem all the wiser from experiencing the U.S. recent housing ups and downs. Many are following housing data closely to make decisions on whether it is better to buy or renovate an existing home. Overall, the fundamentals of housing demand appear to be improving, according to recent reports from HSH and FBR Capital Markets.
Destiny Homes owner Butch Sprenger says, "With fewer homes on the market to chose from, and home values increasing, we are seeing more homeowners opt to renovate their existing homes. Homeowners have a keen interest in making home improvements for a long-term investment, and are better informed than before the housing market tumble and recovery".
"The intersection of price and mortgage cost which constitutes affordability is strong. The desirability of owning a home seems to us to be returning to the market, with potential buyers perhaps more pragmatic and clear-eyed about the risks and rewards of homeownership than those who engaged the market during the height of the frenzy in the last decade," HSH summarized. Architecture and build services are showing renewed strength.
"We are hearing also, that new home buyers are not really looking at the foreclosure market—the houses are either not in good neighborhoods or the house is in bad condition and needs a lot of updates," noted Paul Miller, an analyst at FBR. "So home buyers are either going to newly constructed homes or being very picky with the type and shape of the house. Many couples just can't find the perfect house." According to Miller's statement in "Home Buyers Are Back, but Where Are the Houses?" on CNBC March 1st, the lack of quality housing inventory is tipping buyers toward building or renovating their existing home.
More than seven in 10 move-up buyers said they had faced a competing offer when making an offer for a home, according to a survey by Redfin. Given those experiences, perhaps it isn't surprising that 58% of buyers said they think home prices will increase, up from 34% last quarter. The lack of supply of Minneapolis housing inventory and the up-tick in multiple offer situations is surprising to many home buyers. More than one-quarter of buyers in the survey said they would stand back from the market if prices went up or they were in a multiple-offer situation.
Destiny Homes Offers the following talking points to consider to help determine if it is better for buy or renovate an existing home:
1) A Good Candidate For A Renovation - If dreams for a home renovation include increasing the footprint of a home, how big the lot is may help determine whether it's better to move or remodel. Home builders are familiar with city ordinances that come in to play when considering an expansion at ground level, or may present options to add a second story. Turning a home into a two-story, from a one story fits some structures well and for other homes the structural changes may be cost prohibitive.
2) The Existing Home's Location - Much of a home's value depends on its location. Already owning a home in a highly desirable location is one good reason to pass on being a move-up home buyer, to remain in place and renovate. Raising children in the same school district, living near great neighbors, or already having an ideal commute to the office are all worthy reasons to remain in place and renovate an existing home.
3) Weighing Moving Costs Vs Renovating Costs - Obtaining answers before drawing conclusions will help establish a more realistic perspective of the financial side of determining whether it is better to buy another home or renovate an existing home. Factors vary with each situation. Shipping household goods if moving a great distance may add up, buying new window treatments and furnishing for the new house, and more expensive daily commutes to work are best tabulated ahead of time. Additional costs of fixing up an existing home in order to sell it need to be figured in too. Higher utility costs, insurance cost differences, and higher property taxes may come into play with either expanding your existing home's square footage or moving to a bigger home.
4) Be Realistic About Today's Market - Timing can be everything. Know what current home values are. Know what current remodeling trends are. Make home improvements that are typical for the neighborhood. Gather bids from a local home builder and ask questions to make better informed decisions.
Home Remodeler Of The year 2010 Liz Sprenger and husband Butch Sprenger, owners of Destiny Homes, design full house makeovers that often pay for themselves through a comparable increase in the home's value. Homeowners in the Minneapolis and surrounding residential real estate communities ready to build or renovate their homes may reach Destiny Homes at 952-934-5706.