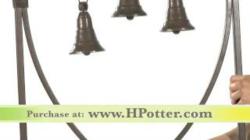 Our mission is to grow our family of new and returning customers.
(PRWEB) September 29, 2012
Throughout centuries of garden design, execution, and development there is at its core the importance of a garden as a space which produces. This has meant that over the centuries that while design and inspiration has been an essential element in a garden, at the end of the day it needs to grow a variety of elements; including flowers, herbs, and veggies. The mere fact that a garden is meant to produce means that over the years materials and tools have been created in order to assist in this process. Including simple items like pots, shovels, garden beds, watering cans, and trellises.
In modern times these tools have become more of an ease to dispose of as the season changes. However, there is one company that has a deep understanding of what a garden is meant to do and has dedicated itself to creating tools that will allow a garden to please all five senses. At http://www.hpotter.com/ (H.Potter), whose owners have their own garden where they grow a variety of flowers and food for their family, has a deep understanding of how to create gardening tools that are both eye catching and will be of assistance to the gardener when they grow everything from tomatoes to onions.
A key example of their dedication to not only their own garden but also their customers can been see in their newly created Onion Dome Trellis. This particular trellis is perfect for a garden that is meant to produce not only wonderful flowers but also onions, fennel, carrots, and rosemary. The Onion Dome Trellis is beautiful enough to stand on its own and also sturdy enough to also be used in a garden that creates classic heirlooms to be shared amongst family and friends throughout the year.
To check out this trellis for your garden and H.Potter's larger collection, visit http://www.hpotter.com. Here you will find a variety of information on a large selection of terrariums, practical garden trellises, and outdoor décor. You will also find links to their extensive collection of articles from garden writers around the world that have been written exclusively for H.Potter's customers. Finally, you will find links to their Facebook, Twitter, Pinterest boards, and YouTube channel where you can follow them to keep up on all the garden trends that are changing every day.