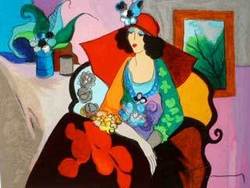 No money is collected or charged to any member until after a sale is made.
Zephyr Cove, NV (PRWEB) August 24, 2010
Artists, Collectors, Dealers & Galleries can now use the power of the internet to swap, sell, auction, and buy art paintings. Listings and membership are completely free. It is expected to become the venue to list, sell or exchange the likes of De Kooning, Erte, Krasnyansky, Tarkay, Dali, Picasso, Disney, or virtually any artist anywhere.
How does ArtloverExchange.com expect to stay in business? Revenues are generated through a 10% fee on any artwork sold. No money is collected or charged to any member until after a sale is made. The platform allows sellers to use any currency and ArtloverExchange.com makes the conversion. Sellers and buyers can pay with credit cards, paypal, bank transfer - and uniquely, can exchange or trade their art for other art on the site. Sellers give final approval for any exchange transaction before it takes place.
Many collectors from Cruise Ships like RCI, Celebrity, and Carnival Lines have found themselves caught up in the early stages of art collecting... they discovered an artist that they liked, and stocked up on too many of that one artist's style. Upon reflection and the refinement of their art knowledge, many collectors would like to trade some of one artist, say Anatole Krasnyansky, for another, like Pablo Picasso.
Unfortunately, most art dealers are loathe to accept prior sold art at full value exchange. Now collectors can go to the internet and swap one artist image for another - all at full value! The cost - only ten percent of the exchange value. Or they can place Free Art-Wanted listings on the site and find that special artist piece that seemed impossible to discover elsewhere.
The art paintings can be listed and sold by almost anyone with a computer and a digital camera. Currently, the site is host to Disney originals, McKimson sericels, DeKooning paintings, Tarkay serigraphs, Picasso etchings, Bill Mack sculptures and so many more. The site curator, Nicholas Varzos, is not only friendly and knowledgeable, but highly accessible. Varzos will take your direct call most any time toll-free at 888.8267310.
###