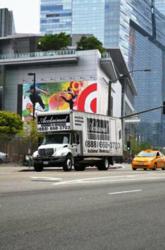 Calabasas, CA (PRWEB) November 03, 2012
The economic recession caused a major decrease in California Movers. Not only was the moving industry affected by the overall decrease in commerce, but the subprime mortgage crisis had a direct correlation with the major downsize in moving companies. The few that weathered the storm are seeing a positive, albeit difficult outlook ahead. CA Moving Companies, a provider of full service moving and storage solutions based in the Calabasas area, has recently announced the expansion of their services and fleet with the purchase of four new 53-foot moving trucks. These trucks are capable of local and long distance moves, and effectively expand the reach of the California movers to a national level.
The moving industry is a good source of economic growth. It provides jobs, opportunities for the public to find new careers, and stimulates commerce across city and state lines. CA Moving Companies have been modeling their services and practices on the changing patterns of migration and commerce in the United States for the past several years, and as such had focused on locally-based California moving jobs. With the upswing the economy has seen in the past year, as well as a rising trend of young professionals 25-29 relocating across state lines, CA California MoversMoving Companies has expanded the reach of their services to a national scale by acquiring four new industry standard moving trucks. The moving trucks are new, biodiesel powered professional moving trucks fully capable of local and interstate moving services.
CA Moving Companies is one of the most rapidly expanding California Movers on the market. Their careful attention to the demands of the changing economy has helped the movers keep the company above water during the recession. They hope to continue expanding their services, with plans already in action for a revamped website with informative videos for the public. The dynamic model of CA Moving Companies reflects the value of pragmatism in today's tightened economy.