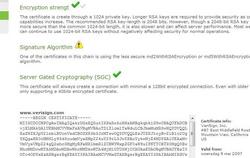 Amsterdam, NL (PRWEB) January 5, 2009
Short after the publication that several Certificate Authorities are using a weak signature algorithm for signing purposes Networking4all -- the largest SSL reseller in the Benelux -- announces a tool to check if your certificate is affected by an insecure signature somewhere in the certificate chain.
A web browser displays a tiny image of a padlock when a user has a secure connection to a web site. This is intended to provide evidence that the Web site is legitimate, as the browser and the site exchange digital certificates provided by a Certificate Authority -- a trusted third party.
This team of computer security researchers have proven they can create fake certificates that will be accepted by the security system.
You can check if a certificate in the chain has been signed with a insecure algorithm using the Vulnerable CA Check tool provided by Networking4all.
Example:
http://www.networking4all.com/en/support/tools/site+check/?fqdn=http://www.verisign.com
You can check all sites on:
http://www.networking4all.com/en/support/tools/site+check/
About Networking4all:
Founded in 2000, Networking4all has now reached the position of market leader in SSL certificates in the Benelux countries and is expanding this position rapidly over Europe. Networking4all offers a comprehensive range of SSL certificates through a fully automated management system which reduces time and management resources for their customers. Resellers profit from an API, a direct connection to this management system, thus providing the best in SSL product choice and service from their own website. Through preferred partnerships Networking4all is able to issue SSL Certificates very quickly, while upholding high standards in quality, with 24/7 professional on line support and expert advice.
###