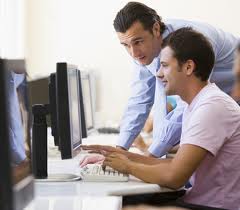 24/7 access to online training on some of the top mechanical CAD packages on the market ... in one place.
Austin, Texas (PRWEB) June 26, 2013
CAD/CAM Connect has added three top online CAD training providers to its manufacturing and engineering community. SolidProfessor offers SolidWorks online self-paced CAD training courses. CADLearning boasts one of the largest libraries of Autodesk online classes in the industry. i GET IT offers courses on CATIA, most Autodesk products including AutoCAD and Inventor, as well as SolidWorks, Teamcenter, Siemens NX, Vehicle Design, Plastic Part Design, Mold Design, GD&T and more.
"It's often difficult for companies to get teams of people out of the office for training," says Ken Wilson, Founder and CEO of CAD/CAM Connect. "These suppliers give our clients and prospects one place to go for 24/7 access to online training on some of the top mechanical CAD packages in the industry. They can address the learning needs of individuals and organizations in a wide variety of markets."
CAD Resellers typically provide training on behalf of the one vendor they represent. Yet, at CAD/CAM Connect.com, visitors will find a variety of manufacturing products and services addressing multiple disciplines covering the entire design to manufacturing workflow process. "This aligns with our mission of giving people choices, since business requirements, budgets and goals are different for every company, " said Wilson.
"As we continue to partner with these top products, suppliers and industry experts, we're constantly working to make CAD/CAM Connect the ultimate online destination for mechanical engineers, machinists and design professionals. It's one place where they can go to research and get advice to help them make the best purchasing decisions possible," said Wilson.
For more information call Ken Wilson at 512-773-1521
About CAD/CAM Connect:
CADCAMConnect.com partners with multiple CAD/CAM/CAE product and service providers who are among the top in their industry. The site offers advice and recommendations, gives visitors access to user comments, MCAD forums and technical whitepapers with great offers in one place.
CADCAMConnect™ is a registered trademark. All other trademarks are the property of their respective owners. All other brand, company, and product names are used for identification purposes only and may be trademarks that are the sole property of their respective owners.