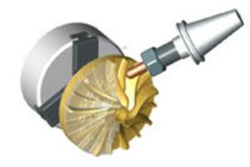 We help companies make better decisions by offering expert advice and the best choices possible in one place
Austin, TX (PRWEB) March 27, 2013
CAD/CAM Connect, an online destination for mechanical engineers and machinists, has added several more top CAM suppliers to its line-up. Recent additions include GibbsCAM, Autodesk's HSMWorks for Solidworks, DP Technology's ESPRIT and several packages from Vero Software (EdgeCAM, SurfCAM, AlphaCAM).
"Our portfolio of CAM packages covers all disciplines from milling, lathe, wood and stone work, wire EDM to nesting, feeding all types of CNC machines, " says CAD/CAM Connect founder and CEO Ken Wilson. " Every CAM program has their strengths and weaknesses based on user requirements. Companies have invested a lot of money in the CNC machines they have on the floor. To get the most out of those machines, the right CAM software and supplier has to be considered as an extension to that investment."
CAD/CAM Connect is an online resource for engineers and machinists where they can find top suppliers, expert advice, community forums, white papers, and deals. The website features many different CAM vendors to offer visitors different choices.
"There is not one CAM software that satisfies everyone's needs. Each company and job shop has specific requirements from their clients, the work they do and the machines they own. We try to take the guess work out of it to help them make better decisions by offering expert advice and the best choices possible in one place", says Wilson.
"Purchasing a CAM system is a major investment the buyer will live with for years to come. Making the right decision is critical. CADCAMConnect.com has a pool of talented machining experts and resources to help cut down on the time it takes to research and buy what they need."
To find out more about CAM software options, call 512-773-1521.
About CAD/CAM Connect:
CADCAMConnect.com partners with multiple CAD/CAM/CAE product and service providers who are among the top in their industry. The site offers advice and recommendations, gives visitors access to user comments, MCAD forums and technical whitepapers with great offers in one place.
CADCAMConnect™ is a registered trademark. All other trademarks are the property of their respective owners. All other brand, company, and product names are used for identification purposes only and may be trademarks that are the sole property of their respective owners.