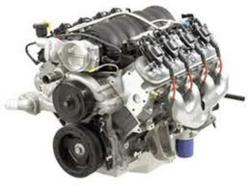 The addition of this engine online and the announced discounts are now providing the resources many buyers cannot find.
Pittsburgh, Pennsylvania (PRWEB) March 10, 2013
Cadillac Escalade is one of the luxury SUVs produced by General Motors. This series of vehicles used the Vortec motor as the base power and performance. The UsedEngines.co company is now discounting the Cadillac Escalade engine for all online sales. These preowned condition engines include the 5.3, 5.7 and other Vortec editions used for this GM vehicle. The new discounts applied are available for owners of Escalade vehicles, mechanics purchasing for customer installations and trade industry buyers. More details can be located online at http://www.usedengines.co/used-gmc-engines/53l-gm-engines-sale.
The 1999 introduction of the Escalade SUV helped to provide an alternative to the Ford Explorer editions. The luxury nature of the Cadillac brand help to market this vehicle to a wider range of buyers. The V6 and V8 Vortec motor series provided the power for this SUV. Locating a preowned motor from secondary market sellers for these editions is not always easy for buyers. The addition of this engine online and the announced discounts are now providing the resources many buyers cannot find using local distributors.
Shipments to select parts of the country can be expensive for some buyers. The transport and handling of an automobile engine typically requires extra shipment fees. Some retailers do not display the cost of shipment before engines are purchased. Engines often weigh hundreds of pounds and require additional handling by expert freight companies for safe delivery.
The UsedEngines.co company is now sending the Escalade and other used engines in stock for no cost to customers. This free freight policy is expected to increase company sales and help lower costs for buyers selecting this company.
The GM motor discounts announced online are part of a domestic and foreign inventory increase. These increases were announced late last year to provide information to the public about new pricing and inventory schedules for 2013. The announcement for these additions can be read on the Internet at http://www.prweb.com/releases/used-engines-for-sale/website-domestic-imports/prweb10010071.htm. More engine types and distribution options are expected to be announced through the remainder of the year.
About Used Engines Co.
The Used Engines Co. sells and distributes automotive engines to a network of customers in the United States. This company is known for its discount prices and customer service. Auto industry specialists own and operate this company to provide better resources for buyers. This company is now one of the leading suppliers of preowned motors North America. The Used Engines Co. grows its customer sales annually by attaching warranty protection and offering free shipping to all customers. This company updates its website to provide better engine information to customers before purchase is complete.