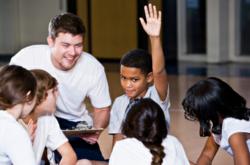 Volunteers, by their nature, don't do what they do for the sake of recognition; they do it out of a sense of responsibility—personal, or towards one's cause.
(PRWEB) April 18, 2013
The third week of April is Volunteer Week. From April 21st through 27th, we express our appreciation for the millions of Americans who achieve exceptional things through service by donating their time and passion to causes that matter.
Most volunteers would be happy without a week devoted to commemorating their work. Volunteers, by their nature, don't do what they do for the sake of recognition; they do it out of a sense of responsibility—personal, or towards one's cause.
But we don't acknowledge volunteers for their own benefit alone. We celebrate their efforts in order to inspire others to do the same, to tell a story that will—hopefully—lead to more action. Because for all the wonderful volunteers in the world, there simply aren't enough—not yet.
To kick off National Volunteer Week, CafeGive developed a new application emphasizes volunteers' crucial contributions to causes and motivate others to join in. The new app collects and broadcasts an organization's volunteer stories and rewards volunteers with the chance to donate to a charity of their choice.
First, the app asks people to post a favorite story about volunteering, the impact a volunteer has had, and the experience of giving back time and expertise. Participants are encouraged to post a photo or video along with their story. Each post is counted and displayed prominently on the organization's page to build momentum.
At the end of April, winners will be randomly selected to direct a donation in their names to the nonprofits they choose. The entire process occurs via social media, so it's easy for anyone to join in, share, and express their support of the organization's volunteers.
Six partner organizations joined CafeGive to pilot the new app and celebrate volunteers' stories during National Volunteer Week, and beyond:
Prometheus Real Estate Group, Inc.
As the largest private owner of apartment communities throughout the Western United States, Prometheus Real Estate is serious about its commitment to its neighbors. From Seattle to Los Angeles, Prometheus endeavors to contribute to the livability of its neighborhoods and develop strong and compassionate communities.
Patelco Credit Union
In terms of credit unions that give back, we can't think of a better example than Patelco. We wrote about Patelco's Hurricane Sandy relief efforts last year, when the credit union raised over $11,000 for Red Cross relief. Read more about their social giving campaigns.
O Bee Credit Union
O Bee Credit Union is renowned within Washington state for its community giving profile. Through its support of local nonprofits and events, O Bee is able to help good-hearted individuals and organizations, like Jessica Dana Racing, grow and accomplish more.
Penna Powers Brian Haynes
Penna Powers Brian Haynes (PPBH) is a full-service communications agency based in Salt Lake City. PPBH has a long history providing creative marketing and advertising solutions to businesses and nonprofits alike. In 2009, the firm was named the Best Company to Work For in Utah.
Rachel Armbruster Consulting, Inc.
Rachel Armbruster specializes in fundraising for nonprofits. With over fifteen years of marketing, development, and strategic experience, Armbruster is one of the leading authorities in the world of cause marketing. She also serves on the board of directors for the Fertile Hope/Lance Armstrong Foundation.
Regence BlueCross BlueShield of Oregon
Regence, a nonprofit health care agency, offers individual and group medical, dental, and vision insurance, Medicare and other government programs, and pharmacy benefit management. In addition to providing health coverage for our 2.2 million members, our job is to connect you to the people, tools and resources that matter to your health.
For more information about the new volunteering app, email sandra(at)cafegive(dot)com or call 503-880-7349.