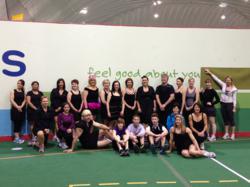 We like to have fun at Calgary NW Fit Body Boot Camp. It's win-win to be able to give back and get sweaty all at once."
(PRWEB) March 12, 2013
Calgary NW Fit Body Boot Camp will be holding its 4th Annual "Little Black Dresses" fundraiser on Wednesday, March 13, to raise funds to support the Friend's Church Youth Group and their "Mission to Mexico" charity event. The Calgary boot camp's clients, including men, will be decked out in "little black dresses" during their workouts.
The goal is to raise $3,000 for building supplies and travel expenses to support the Youth Group's trip to Mexico to build homes for impoverished families. This is a worthy cause as members of the Youth Group will learn valuable lessons on giving back to the community while needy families will be able to drastically change their living conditions and circumstances.
The Calgary boot camp owner, Shawna Kaminski, believes in giving back to her local community and her Fit Body Boot Camp regularly conducts "workouts for a cause" programs, and this event is the biggest one yet. Several corporate sponsors will be donating to the charity event based on participation. Sponsors will donate more when clients participate in a little black dress, and the donations are even higher when men workout in a little black dress.
"I started this charity event because everyone likes to feel like they can give back to a worthy cause," says Shawna Kaminski, Calgary Boot Camp Owner. "We like to have fun at Calgary NW Fit Body Boot Camp. It's win-win to be able to give back and get sweaty all at once."
Fit Body Boot Camp owners across the country and locations in the USA will participate in the event. Everyone will do the "Lil Black Dress" workout, in 'little black dresses' of course.
An added goal is for participants to have a lot of fun while performing a great workout. New participants are encouraged to drop in and enjoy a fun workout. It's an all-around "feel good" event as clients get a sweat on while helping to make the world a better place.
"What a great event!" said Calgary NW Fit Body Boot Camp client Kelly Scott. "Even if I have to wear a dress for the fourth year in a row, I wouldn't miss this for the world."
For more information on the 4th Annual Little Black Dress Charity Event and the location of the Calgary fitness center where it will be held, please contact Shawna Kaminski at (587) 355-8353 or via email at shawna.kaminski(at)gmail(dot)com.
About Fit Body Boot Camp Calgary NW
Fit Body Boot Camp Calgary NW is owned and operated by Shawna Kaminski. She is focused on helping the Calgary community lose weight and attain their fitness & health goals. She has a passion for teaching people how to work fitness into their daily lifestyle in order to improve their quality of life. For more information about Fit Body Boot Camp Calgary NW, visit http://www.canadafitbodybootcamp.ca/calgary-nw-fitness-boot-camp/about or call her at (587) 355-8353.