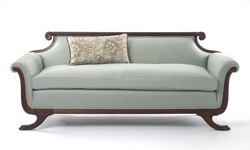 If you take hold of the arms, does the rest of the piece wobble? Do all four legs sit evenly on the floor?
Kennett Square, PA (Vocus) January 20, 2009
If you love hunting for furniture in antique stores, flea markets and the local thrift store, or surfing for deals on Ebay and Craig's List, you're among the millions who love to find treasures and reclaim them. Can you spot a gem that just needs reupholstery? Here are ten tips from Jan Jessup, director of communications for the Calico Corners - Calico Home stores across the country:
1. Do you like the shape of the piece? Upholsterers can do wonders with tired old furniture, but they can't change the basic outline of it. They can plump up cushions, lengthen a skirt, or remove the channeling or tufting in the back of a chair. But just as a facelift can only improve upon what is already there, an upholsterer has to work with the structural frame of the furniture.
2. Is the furniture frame solid? "If you take hold of the arms, does the rest of the piece wobble? Do all four legs sit evenly on the floor?" asks Rich Turkington, an upholsterer in West Grove, Pennsylvania, who works for Calico customers. "The back of the frame shouldn't move back and forth," he advises. "But don't be dissuaded by a sagging bottom--that can be fixed!"
3. Is the frame made of hardwood? If you buy a pre-owned car, you check under the hood. It's the same with furniture. Check under the skirt or beneath the fabric dust cover on the bottom. "If the piece has some weight, it's probably hardwood and a better quality frame," says Turkington. "That may also indicate denser stuffing and a coil-spring foundation--these all make a piece heavier." Such features also make furniture worth reupholstering. "Almost any chair or sofa can be made as good or better than when it came out of the factory," notes Turkington. "The trick is to know whether it's worth it."
4. How do the arms feel when you squeeze them? If the arms feel squishy inside, the chair may have been made with cheap foam that has disintegrated--one sign of an inferior piece of furniture that isn't worth reupholstering. If the arms are lumpy or sagging a bit, that can easily be corrected with new stuffing. An upholsterer will retie sagging springs, replace lumpy stuffing and redo cushion fillings so that you have the equivalent of a new piece of furniture.
5. Do you recognize the brand name? If you find a deck label of a reputable furniture manufacturer--Baker, Century, Drexel-Heritage, Henredon, Lee Industries, Michael Thomas and Vanguard are several--that bodes well for the quality of the frame, no matter how bad the outer fabric looks. Fabric is cosmetic and will be completely replaced in reupholstery. "When buying a house, a lot of people are distracted by bad wallpaper," states Jessup. "If you can squint your eyes and visualize it in a beautiful new color and texture, you may find a great bargain--both in a house or in a piece of furniture."
6. Can you send a photo of the furniture to the upholsterer? Before you take possession, you may want to get an opinion from an upholsterer. He'll be able to tell you about styling options and approximate costs for the custom labor needed to transform your piece from trash to treasure.
7. Does reupholstery make sense economically? Reupholstering furniture is often close in cost to buying new furniture. There is almost as much labor involved in rebuilding an old piece as crafting a new one, and the fabric cost is the same. However, no one can put a value on the worth of your grandmother's sofa or your dad's favorite chair. And distinctive antique pieces may be difficult to find as new styles at retail today.
8. Have you considered the environmental impact? Reupholstery was one of the first forms of recycling, and keeping chairs and sofas out of landfills is a very good thing. That's why it's worth investing in good furniture to start with--it can be reupholstered again and again. If you are on a limited furniture budget, it's better to purchase good furniture from a thrift store and recover it than to buy new furniture that's cheap and won't have a second life. If shoddy furniture ends up on the curb after a few years, that's bad for all of us.
9. Can you funk it up? Or go against type? "If you have an old overstuffed chair or sofa, it's fun to redo it in a fabric that makes a statement," says Jessup. "A leopard print, a graphic floral or a big stylized leaf design will make the furniture unique. It won't look like it came off a department store furniture floor. I also like to use a more contemporary fabric on a classic frame or vice versa--such as a large scale damask on a sleek frame with more modern lines," adds Jessup. "It goes against type--and that's intriguing! It enlivens the room and makes more of a design statement."
If you're unsure about the visual effect of an upholstery fabric in your room, Calico allows customers to take home large samples to drape on their furniture. "You see exactly how the color and pattern will look in the light of your room and how it marries with the other furnishings," states Jessup. "Calico has done this for 60 years--customers love it because it saves them from making a mistake."
10. Have you shopped for furniture in your own home? A piece of furniture that's been banished to the basement could have a great new life if reupholstered in a new fabric. Even leather pieces can be recovered in new hides (Calico sells hides in a variety of colors). Pieces that don't seem very comfortable may feel very different with a change in cushion filling or plumper arms.
Calico Corners - Calico Home stores provide expert decorating advice and in-home
design consultation in more than 100 stores across the country. Consumers will find thousands of designer fabrics for the home at value prices; window treatments, blinds and shades; custom upholstered furniture, plus rugs, lamps, decorative accents and more. Thousands of fabrics are available online. For more information or to find the nearest store, visit http://www.CalicoCorners.com or call (800) 213-6366.
Contact:
Jan Jessup
(610) 444-9700, Ext. 262
###