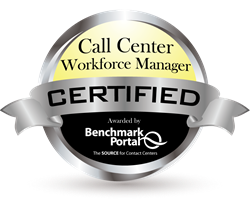 Santa Barbara, CA (PRWEB) March 11, 2013
BenchmarkPortal is announcing their contact center training schedule for Workforce Management Training. The new schedule includes more in-person locations and new live online workshops.
The BenchmarkPortal contact center Workforce Management Certification training course covers the entire workforce management process- from the gathering of data to the production of forecasts, schedules and budgets. We include lessons that benefit attendees from any size organization, large and small, with real-world examples of solutions that work in practice - not just theory.
Participants will come to understand the processes that make up the foundation of an effective workforce management practice. They will learn the best ways to gather the right data at the right time to maximize call center scheduling and staffing. They will also learn results reporting for effective decisions and actions.
The course includes information on how to build forecasting models that work; how to use Excel to do time series modeling; and how to build an Erlang C-based staffing model. Among the course topics are options for building staff plans to meet budget and scheduling needs and results reporting that drives effective decisions and actions. Also covered in this course is a change management approach to overcome the "Big Brother" syndrome.
View the in-depth WFM Training Workshop Curriculum »
Small class size allows for one-on-one interaction with the instructors, as well as networking opportunities with colleagues and industry peers. Participants also leave with "take aways" that are meant to enable them to make a real difference in their centers.
Participants in these workshops typically include Contact Center Managers, Workforce Managers, Supervisors, Directors and Vice Presidents. BenchmarkPortal courses are designed to enable these leaders to better manage their call centers and strengthen relationships with other departments. Every attendee receives complete course documentation and a comprehensive workbook.
All BenchmarkPortal call center training courses include access to a complimentary Benchmarking Report and web-ex style presentation of the individual's benchmarking results with their College instructor. Managers report that they really appreciate the combination of interactive classroom work along with personalized focus on individual needs and challenges. This approach is considered to be unique to BenchmarkPortal's College of Call Center Excellence training.
View the Calendar Here: Contact Center Workforce Management Certification Workshop
Live Online - April 10-12, 2013
Call Center Campus Week, Las Vegas, NV, Nov. 12-15, 2013
About BenchmarkPortal
BenchmarkPortal's founders pioneered the first contact center benchmarking study in 1995. Now custodian of the largest database of contact center metrics in the world, BenchmarkPortal is a leader in certification, training, consulting and research for the customer contact industry. Its team of professionals has gained international recognition for expertise and innovation in best practices. BenchmarkPortal's mission is to help management optimize the performance of their center in terms of both cost and quality, encourage customer loyalty and build enterprise value. For more information on BenchmarkPortal, call 1-800-214-8929 or visit http://www.BenchmarkPortal.com.