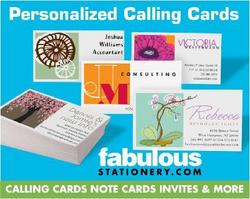 The truth is, everyone wants to look good on paper right now
Philadelphia, PA (PRWEB) February 26, 2009
FabulousStationery.com calling cards help job applicants stand out. Calling cards are the new business cards -- but much more personal. And in today's economy, calling cards are more useful than ever. Use them to network, to expand the clientele of a business, or to land a new job. And now that they are on sale at 25% off, making them even more affordable.
"The truth is, everyone wants to look good on paper right now," said Jay Arnold, Co-Owner of http://www.FabulousStationery.com. "And the Fabulous Stationery calling cards are an inexpensive way to add a little extra something that will help you stand out from the crowd."
Fabulous Stationery calling cards can be personalized for a business, side-business, or to show your personal contact info. Leave a Fabulous Stationery calling card behind for potential employers, and follow-up with a coordinating thank you note. Whether it's a dog walking service or IT consulting, Fabulous calling cards elevate your professional image in style.
Fabulous Stationery's calling card designs offer something for every design sensibility, from modern and stylish to artistic or professional.
Shopping at FabulousStationery.com could not be simpler. Customers select one of the over 75 contemporary calling card designs offered, choose from one of three color palettes, enter in the text they want, and check out. A professional graphic designer creates a one-of-a-kind layout for each set, making it totally unique. Orders are shipped in 5 -7 business days.
Fabulous Stationery calling cards are sold in sets of 100, regularly priced at $55.00, but now offered at a 25% discount until March 31st, 2009.
"The last thing you do at an interview is to shake an interviewer's hand and leave them your calling card. Handing potential employers a calling card that reflects your style says a little something more about you personally, making you stand out from other applicants. There is also a better chance the interviewer will remember you for it. You only get one chance to make a first impression- why not make it a fabulous one," said Julie Schelling, Sales & Marketing Director of FabulousStationery.com.
###