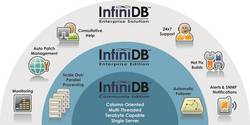 InfiniDB 2.0 delivers a set of new features that are purpose-built for fast data loading and improving query response, which is critical in complex analytic and large, data-intensive applications.
Frisco, TX (PRWEB) November 4, 2010
Calpont Corporation, a provider of scalable, high-performance, column-oriented analytic databases today announced InfiniDB® Enterprise 2.0. InfiniDB has quickly established itself as a proven, powerful and reliable platform for data professionals who need rapid and easy access to data, scalable data capacity, or the need to augment or replace their traditional RDBMS technologies.
InfiniDB 2.0 empowers business users to achieve faster query performance from their analytic database system while lowering IT costs. The platform is designed with a flexible and scalable architecture that addresses the challenge of IT's ever-expanding data workload requirements and the need for organizations to achieve rapid ROI on infrastructure investments and reduce execution risk. A benefit of InfiniDB's architecture includes allowing IT to leverage existing server-storage hardware relationships and the analytics layer software investments that can be easily adapted to their changing business and data needs.
"InfiniDB is designed and optimized for businesses that need to improve how they manage and strategically benefit from the large data volumes that they want to capture and put to work, across the organization," said Jeff Vogel, president and CEO of Calpont Corporation. "InfiniDB 2.0 delivers a set of new features that are purpose-built for fast data loading and improving query response, which is critical in complex analytic and large, data-intensive applications."
InfiniDB is an all-software solution that uses a column-oriented approach to overcome query and input/output (I/O) performance limitations that exist in traditional symmetric multiprocessing, relational database management systems (RDBMS) by storing, managing, and querying data based on columns rather than rows. It features a multi-threaded, fully distributed, massive parallel processing (MPP) architecture that processes data queries extremely fast. InfiniDB performance scales linearly with the addition of commodity server hardware, guaranteeing service level commitments and optimal asset utilization levels well into the future.
"While traditional markets such as retail, telecoms, financial services and insurance have a wealth of data to manage; web analytics are generating data with an added level of complexity and the nature and speed in which business depends on the queries is driving a need for near-real-time analysis," said Matthew Aslett, senior analyst, enterprise software at The 451 Group. "Calpont fills a gap in the market for an MPP scale-out analytic database with MySQL compatibility. With InfiniDB Enterprise 2.0, increased capabilities and performance make the product more attractive, which will help to accelerate customer adoption."
New features of InfiniDB 2.0 that help drive the performance of analytic insights and maximize IT assets include:
Data Compression with Real-Time Decompression:
InfiniDB utilizes column-level compression to physically compress data on disk. Columnar compression offers greater compressibility than row-based capabilities because of the similarity of data values within in a column file. Real-time decompression means that data can be decompressed while it is being read from disk, and without the loss of read performance, which can be critical in high performing multi-dimensional analytic queries.
InfiniDB combines the space savings derived from physical compression with the elimination of indexing and materialized views. The benefit is increased query response when reading from disk, smaller disk footprint, and improved I/O bandwidth and throughput.
User-Defined Function (UDF) for In-Database Analytics:
InfiniDB's UDF capability enables data owners with in-database functionality to write business logic and analytic functions specific to their business needs. UDF's provide a mechanism for extending the functionality within the database server by embedding logic that can be evaluated and implemented in SQL statements. With InfiniDB's distributed MPP architecture, UDFs are completely parallelized and scalable, as is InfiniDB's out-of-the-box SQL. The resulting benefit for in-database calculations is improved latency and high-throughput for deep operational and predictive analytics.
Partition Drop enhances existing Automatic Partitioning:
InfiniDB automatically partitions data vertically and horizontally within the database. Vertical partitioning is performed transparently to store and read only the columns needed to satisfy a query. Similarly, horizontal partitioning reads only the range of rows required for the same query. Automatic partition drop enhances this partitioning functionality by enabling extremely fast removal of data partition boundaries and associated data no longer required by the business.
While designing its solutions, Calpont has benefited from the feedback of its open source community edition. With over 15,000 downloads,InfiniDB Community gives developers and data architects the ability to independently evaluate and do a "Proof of Concept." The InfiniDB Community platform is a scale-up, multi-core, single server node system with a seamless path towards scaling out with multiple nodes as their data and performance needs grow.
For more information about InfiniDB 2.0, determine pricing for a specific deployment, and calculate the value that can be achieved with InfiniDB see: http://www.calpont.com
About Calpont
Calpont Corporation is a provider of scalable, high-performance column-oriented analytic databases enabling ultra-fast, deep analysis of massive data sets. InfiniDB Enterprise is the emerging choice for demanding data warehouse, business intelligence, reporting, and analytic deployments. Known for its rapid implementation time, unmatched operational simplicity and extraordinary value, InfiniDB provides a proven solution for data-intensive businesses, including those in the software, online business, telecom, and social spheres. For more information, please visit http://www.calpont.com, join our open source community at http://www.infinidb.org, or follow us at twitter.com/calpont.
# # #