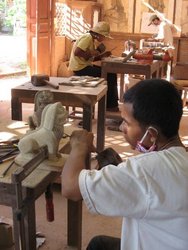 While Angkor is definitely a must-visit for any Cambodia travel itinerary, anyone who tours only the temples is missing out the real Cambodia
Bangkok, Thailand (PRWEB) September 8, 2009
Exotissimo Travel, a leading travel company in Southeast Asia, launched a new 6-day Cambodia tour program that combines relaxed sightseeing to awe-inspiring sites and philanthropic excursions to local charities.
Beginning in Siem Reap, travelers spend the first three days exploring the Angkor Archaeological Park, including established and lesser-known temple sites, with an experienced guide. The program in Siem Reap also include visits to a landmine museum to learn about the country's ongoing de-mining efforts and lunch at a charity-run restaurant that provides delicious Khmer cuisine and vocational training of underprivileged children.
A boat trip along the Tonle Sap Lake and Sangker River leads to Battambang where travelers will visit several non-profit organizations as well as a training restaurant and a handicraft center dedicated to helping disadvantaged youth. On Thursdays, a special circus performance by a children's charity is a fabulous experience that educates the audience about HIV/AIDS, land mines and human rights issues at the same time. A unique bamboo train ride through the idyllic countryside is another highlight in Battambang before travelers return to Siem Reap for further touring.
Throughout the 6-day itinerary, Exotissimo has interspersed many opportunities for travelers to make a difference to local communities in meaningful ways. They can meet and speak to the underprivileged at charities, dine at vocational training restaurants or shop for handicrafts made by locals employed under fair employment terms. A part of the tour fees will go directly to the organizations visited.
"While Angkor is definitely a must-visit for any Cambodia travel itinerary, anyone who tours only the temples is missing out the real Cambodia," said Sibylle Rotzler, Cambodia Product Manager. "By joining this program, travelers will gain a deeper understanding of Cambodia's recent turbulent past and play a part in the country's rebuilding process."
Commenting on the vast number of charities that exist in Cambodia, Sibylle said, "We have conducted extensive research into Cambodia's charity sector to source for credible organizations to partner up with. In this way, travelers with Exotissimo will be assured that their money is apportioned to good causes."
For travelers interested to make positive impacts in greater depth, Exotissimo can also arrange charity challenges for them to raise funds for local charities or their selected causes.
To view the detailed itinerary and pricing of Cambodia Charitable Tour, view: Cambodia Charitable Tour
To discover Exotissimo Travel Cambodia Tours Collection, view: Cambodia Tours
To learn more about Exotissimo's responsible tourism philosophies, view: Responsible Travel Policy
About Exotissimo Travel
Exotissimo Travel is a premier destination management company that specializes in tailor made tours in Vietnam, Cambodia, Laos, Myanmar and Thailand. Established in 1993, the company is now a network of 15 locally-based offices staffing over 500 travel professionals, and sales offices in San Francisco, Paris, Berlin, Barcelona and Melbourne. For more information, please visit http://www.exotissimo.com.
###