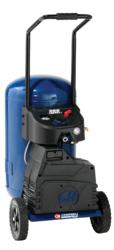 "No other compressor on the market provides this level of efficiency for the value," said David Shumate, product manager.
Cincinnati, OH (PRWEB) July 19, 2011
Campbell Hausfeld debuts its first 8-, 15- and 20-gallon 200 PSI air compressors that provide the power to run air tools 40 percent longer than traditional models, resulting in faster home and automotive project completion. Packed with smart design elements and user-friendly features that make it easy for a DIYer to "do it like a pro," the units will be available at Lowe's Home Improvement starting in July 2011 and will range from $179-$329.
In addition to 40 percent longer air tool run times (based on initial tank fill of 200 PSI compared to an initial tank fill of 150 PSI max on same size tank; assumes tool operation to 90 PSI), the new 200 PSI family of compressors are:
•Guaranteed Tough: Feature American Society of Mechanical Engineers (ASME) steel tanks made from 15 percent thicker steel designed to exceed 10 million cycles. All units are backed by Campbell Hausfeld's exclusive 10-Year Tough Tank Guarantee.™
•Easy-to-Maintain: Oil-free pumps.
•Easy-to-Move: Pumps and motors are located at the bottom of the tank for improved balance and stability.
•Space Savers: Compact, vertical designs provide the same air power in more efficient configurations.
•User-Friendly: Feature 2.5-inch soft-touch regulator knobs and easy-to-read 2-inch outlet pressure gauges.
200 PSI Model Specifications and Pricing (in order of retail availability)
•15 Gallon (Model #HJ300100DI). Available July 2011. Delivers 3.7 SCFM @ 90 PSI; max 200 PSI. Approximate retail price: $229.
•8 Gallon (Model #HG300000DI). Available July 2011. Delivers 2.5 SCFM @ 90 PSI; max 200 PSI. Approximate retail price: $179.
•20 Gallon (Model #HJ300299DI). Available Fall 2011. Delivers 3.7 SCFM @ 90 PSI; max 200 PSI. Includes 24-piece auto kit with 3/8-inch air ratchet; ½-inch impact wrench; 3/8-inch butterfly impact wrench; general purpose spray gun; tire inflation gun; oil change kit which includes 3/8-inch drive oil filter wrench, six impact sockets, 3/8-inch drive for drain plug removal and 8-quart oil drain pan with pour spout and funnel; and related accessories. Approximate retail price: $329.
About Campbell Hausfeld
Founded in 1836 and based in Harrison, Ohio, Campbell Hausfeld offers a complete line of air compressors, air tools and accessories, nailers and staplers, tire inflators, paint sprayers, pressure washers and welders. Campbell Hausfeld products are available nationwide at home centers, mass merchandisers, catalogs, internet retailers and hardware stores. More information can be found at http://www.chpower.com or by calling 1.888.CHPOWER (247-6937).
###