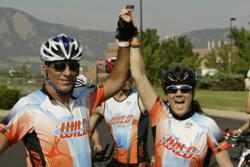 "CampWILD is life altering, I have a new perspective on my life and my diabetes."
Boulder, Colorado (PRWEB) March 28, 2013
TeamWILD Athletics is pleased to announce the application window is open for people to apply for one of two scholarships for $1,000.00 toward tuition to attend CampWILD2013. Interested applicants must apply by April 10, 2013. Please immediately direct interested parties to http://campwildscholarship.com.
One former camper put it this way, "CampWILD is life altering, I have a new perspective on my life and my diabetes."
CampWILD is an athletic training camp for adults of all athletic or non-athletic abilities who have type1 or type2 diabetes and who are ready to learn about exercising with diabetes with expert athletics coaches, expert diabetes educators, sports dietitians and mental skills coaches who use a solution-focused, integrated approach directly with the person with diabetes. Friends, family members and other "type 3 supporters" are also welcome to attend CampWILD.
CampWILD will be held in Boulder, Colorado June 19 – 23, 2013.
CampWILD has three tracks: cycling, triathlon or run/walk. All campers participate in diabetes, nutrition, sport specific and mental skills clinics throughout the fast-paced five day camp experience.
Topics to be explored at CampWILD include:
Exercise Physiology and Why it Matters When You Have Diabetes
Understanding Insulin & Medications for Exercise
Conquering Your Fears of Lows and Highs
How to Use Food as Fuel: The Myth of the Diabetic Diet
Carbs and Why It's Ok to Love Them When You Are an Endurance Athlete with Diabetes
Bike Handling Skills for Cyclists & Triathletes
Run and Walk Form for Efficiency
Open Water Swimming for Triathlon
Why Intervals Make You Faster and Stronger
There is no such thing as a hill – the Psychology of Suffering
Self Talk for Athletes
These generous scholarships are available because a former CampWILD attendee had such a powerful transformation, that she donated the funds for others to come to CampWILD.
As another former camper powerfully says, "If you're interested in learning more about your diabetes than you have in a long time, come to CampWILD with me next year. I learned how to manage my blood sugars during and after extreme exercise instead of dealing with "the fallout" as I did for so long. Seeing so many people wearing pumps and CGMs was amazing. And never having to be embarrassed about my pump or meter beeping allowed me to not feel singled out for the first time in my life. Meeting other people who live with diabetes every day and who want to be healthy and in control of their lives was so inspiring!"
Mari Ruddy is the Director of CampWILD and TeamWILD. In addition to being the founder and director of TeamWILD, Mari, who has lived with type 1 diabetes for 31 years and is a two time breast cancer survivor, is the founder of the Red Rider Program used by the American Diabetes Association Tour de Cure to celebrate cyclists with diabetes.
The Red Rider program has grown to recognize more than 7,000 cyclists and the Red Riders are responsible for raising over 4 million dollars in 2012 for the American Diabetes Association's mission to Stop Diabetes. TeamWILD provides approved training materials to the Tour de Cure cyclists who have diabetes. Come to CampWILD and spend 5 days with Mari, that alone will transform your life for the better.
The CampWILD diabetes and nutrition staff is headed by Marcey Robinson, MS, RD, CSSD, CDE, BC-ADM and Jennifer Smith, RD, CDE, both of whom have extensive diabetes and exercise experience, including coaching countless diabetic athletes to top athletic performance for Ironman and other endurance sporting events.
The athletic coaching staff includes Jarrod Fritsch, from Australia, Chris Navin and Gillian Forsyth from Chicago and former Team Type 1 cyclist Daniel Schneider from Boulder, Colorado.
CampWILD values Mental Skills to get the brain of the diabetic athlete to the start and finish line along with the body, thus Coach Ginger Vieira of Living-In-Progress and author of My Diabetes Experiment and Emotional Eating with Diabetes, will be at CampWILD to guide campers to top mental performance.
CampWILD will be held at the Millennium Hotel in Boulder, Colorado, an ideal location as the hotel has an Olympic length pool, easy access to the bike and run trails and a high quality catering department that understands the nutritional needs of CampWILD. CampWILD will begin on Wednesday, June 19 at noon and conclude on Sunday, June 24 at noon.
The Mission at TeamWILD: We Inspire Life with Diabetes, is to empower people with diabetes to take charge of their health by teaching how to be an athlete first, and a person with diabetes second. TeamWILD seeks to fill the gap in the care and education of people with diabetes who are ready to engage in endurance athletics for health, wellness, fitness and personal empowerment.
In addition to CampWILD, eTraining programs are available in the endurance sports of cycling, triathlon running and walking. Participants can live anywhere in the world and do a TeamWILD program. All one needs is an internet connection, the right run/cycle/tri gear, and the desire to transform one's health.
To learn more about CampWILD and TeamWILD, visit http://teamwildathletics.com
To apply for the CampWILD Scholarship go to http://campwildscholarship.com.